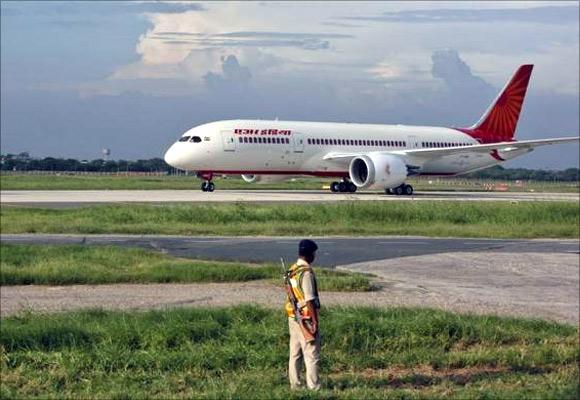 Three commercial pilot licence holders have moved the Delhi high court against Air India after being rejected in psychological screening during a recent recruitment drive.
Air India had advertised in February it would hire 197 senior trainee captains, but the airline rejected a third of the 160 candidates for failing a psychological evaluation in panel interviews held later.
The rejected pilots contend Air India 'conducted interviews with the psychometric test, which is not contemplated under the (recruitment) advertisement'.
They also claimed that it was primarily due to the assessment made by the interviewing psychologist that they were found unfit.
During a hearing earlier this month, judge V Kameswar Rao directed the airline's chairman to produce relevant records pertaining to the interviews and fixed the matter for hearing on August 6.
Air India did not respond to email queries seeking its comment.
For the first time, the airline had inducted an independent psychologist from the Indian Air Force on the interviewing board to check the mental fitness of the candidates.
The psychologist had asked the candidates a series of questions. Candidates were quizzed on issues such as how they would handle situations if the commander of the plane reported drunk, was incapacitated or passengers turned unruly. It could not be ascertained what specific questions were posed to the petitioners.
Air India sources said the psychologist's call was final and if she felt a candidate unfit he or she was rejected.
Airline tightened its selection process in the aftermath of the Germanwings flight crash where the co-pilot had deliberately flown the plane into the French Alps, killing all 150 people on board, raising concerns over the mental fitness of pilots.
In its current recruitment, Air India followed a two-stage process that was open only to pilots proficient with Airbus A320-type aircraft.
The process included a simulator test and an interview. Sources said candidates did not have to fill up a questionnaire, which was the usual practice for conducting a psychometric test.
"We have challenged the faulty procedure of selection and illegal conduct of the psychometric test.
"We have prayed for quashing of the entire selection process and re-conduct of the same with correct procedure, as prescribed by the DGCA (Directorate General of Civil Aviation)," said Rajiv Manglik, lawyer for the pilots.
Incidentally, the DGCA, too, does not have rules on the issue though earlier this month it issued draft guidelines.
The regulator said in a proposal that psychological assessment of pilots could be introduced at the time of selection in flying schools, recruitment and promotion to commander rank.
Airlines in India conduct psychometric tests on pilots during recruitment and this could include a written test, interview and an aptitude test held in a simulator.
STATUS QUO: PSYCHOLOGICAL TESTS
Pilots undergo medical checks once or twice a year to keep their commercial licence validity
These examinations are held at air force stations and approved pvt hospitals
These checks follow International Civil Aviation Organisation guidelines and focus on physical health
At present, there are no laid-down norms on the psychometric test for flight crew issued by DGCA
Image: An Air India aircraft; Photograph: Reuters