The sudden surge in raw material prices has forced steel companies abroad to raise prices considerably but Indian counterparts have been unable to do so at such a pace.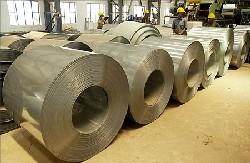 This has eroded the premium that Indian steel makers enjoyed and they're actually selling at a discount to international prices.

Currently, the landed cost of cold rolled steel in India is about Rs 36,000 per tonne and the price of a similar product of Indian steel makers is lower, at Rs 34,000-35,000 per tonne.

Hemant Nerurkar, managing director, Tata Steel, said: "Yes, Indian steel prices are lower than international prices right now but you might see the situation corrected next month."

An official from JSW Steel, who wished not to be named, said, "Indian steel prices are cheaper by $20-30 per tonne currently but this is a temporary phase and will be corrected soon." The official said Indian steel prices are normally higher than international prices.

Nerurkar said prices in the international market were volatile and Tata Steel did not change prices that frequently.

He said, "If you are selling on spot, there might be new prices every day. However, we don't follow a model where we can change prices every day."

Adding, "I think the situation will get corrected and Indian prices will again be higher than landed imported steel. I am sure the import prices that we are seeing are very spot and they need to get corrected."

Tata Steel raised prices earlier this month by Rs 1,500 per tonne. Other steel makers, too, raised prices by three to five per cent and are contemplating further raises.

Koushik Chatterjee, Group CFO, Tata Steel, said, "Steel prices globally will be high because the raw material push continues. Maybe the steel prices in India have some space to go up."

The JSW official said this was a temporary phenomenon, as Indian steel makers haven't been able to pass on the rise in raw material costs to the consumers.

He said, "Steel prices in India have gone up by three-five per cent over the past month. Those in the US have gone up by $200 per tonne."

Jayant Acharya, director (sales and marketing), JSW Steel, told Business Standard a few days earlier: "There is a case for a further price hike but we haven't decided on the time."

Nittin Johari, director (finance), Bhushan Steel, and Ankit Miglani, director (commercial), Uttam Galva, also agreed prices would shortly go up again.

Coking coal rates for the current quarter are already at $225 per tonne and the floods in Queensland, Australia, pushed spot prices above $250 per tonne.

These prices at the beginning of the year were $125 per tonne. Iron ore prices are over $190 per tonne from $110 per tonne.

After the January price rise, the difference between the international and domestic prices has narrowed but a gap remains.

The cold rolled steel price in the international market is currently at $770 per tonne, whereas Indian producers are selling it at $720 per tonne.

Ravindra Deshpande, metal analyst, Elara Capital said, "Indian steel prices are at a discount but this is not sustainable. Indian steel prices have to increase and the situation where domestic prices are at a premium will come back very soon."

Deshpande and the JSW official both said the discount between domestic and international prices was around $30-40 per tonne but would get corrected soon.

Prasad Baji, senior vice president, Edelweiss, said, "Steel prices abroad have risen more than domestic prices, as companies there have been taking hikes at a very fast rate. Indian companies, however, have been slow to respond to the upward price movements."