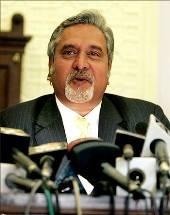 Liquor baron Vijay Mallya said on Tuesday United Spirits and Diageo Plc have received all regulatory approvals for their Rs 11,166.5-crore (Rs 111.66-billion) deal under which the Indian spirits maker will sell 53.4 per cent to the UK-based firm.

"CCI (Competition Commission of India) approval has been received.

"All regulatory approvals have been received. So that's why it (the deal) is on track," Mallya told reporters here after meeting Finance Minister P Chidambaram in New Delhi.

The CCI in an order dated February 26 approved Diageo's proposed majority stake purchase in Mallya-led United Spirits, saying the deal would not have adverse impact on competition.

After seeking clarifications and changes four times the fair trade regulator, CCI had ruled that the deal would give a boost to entry of premium brands in alcoholic beverage market.

Diageo Plc had earlier said it would launch its over Rs 5,441-crore (Rs 54.41 billion) open offer to acquire 26 per cent stake United Spirits between January 7, 2013 and January 18, 2013 but the delay in getting CCI nod had made it approach market regulator Securities and Exchange Board of India requesting it to allow to make the offer only after getting all the requisite regulatory approvals.

While granting its approval to the request, the Sebi on its part has said that Diageo will have to pay an interest of 10 per cent per annum for the period of delay to the public shareholders tendering their shares in the open offer.

In a letter dated January 31, 2013 Sebi had said the letters of offer needed to be dispatched to public shareholders within seven days and the share tendering period was supposed to begin within next five days, that is no later than February 18.

Subsequently, the payment to all shareholders was required to be completed by March 18.

However, JM Financial, which has been appointed as manager to offer by Diageo, requested Sebi that the tendering period should be allowed to commence within 12 days of receipt of all applicable statutory approvals.

Sebi has accepted the request with a condition of additional interest payment for the delay and Diageo would announce the revised schedule in due course.

In November last year, in one of the biggest stake sales by an Indian firm to a foreign company, UK-based Diageo agreed to buy 53.4 per cent stake in United Spirits for Rs 11,166.5 crore (Rs 111.66 billion) in a multi-structured deal.
Image: Vijay Mallya