'If they are taking marquee locations and, say, are paying 50 per cent higher rent, those locations will see a spurt in rates as well.'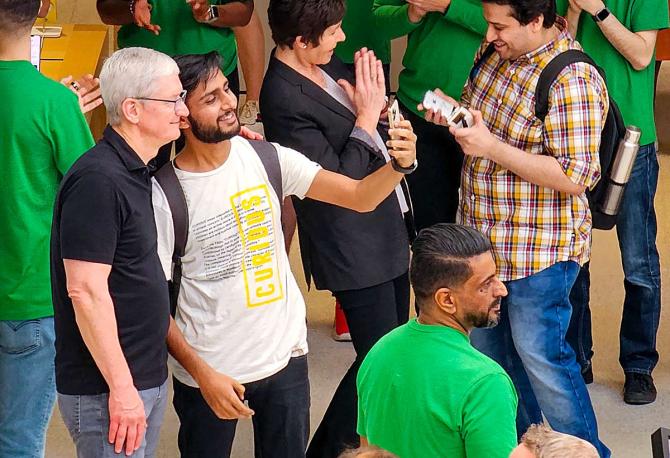 On Tuesday, April 18, 2023, India got its first fully-owned Apple store in Mumbai. Two days later, a second Apple store opened, this time in Delhi.
The big openings have caused a good amount of excitement, and real estate experts say the brand's cult following is bound to up the value of the addresses it has chosen to house itself in.
The 22,000-sq ft Mumbai store at the Reliance Jio World Drive mall in Bandra Kurla Complex opened on April 18 at 11 am; the one at the Select Citywalk mall in Delhi threw its doors open at 10 am on April 20.
A "big, positive step" is how Samir Jasuja, founder and CEO of real estate data and analytics firm PropEquity, describes the arrival of these fully-owned Apple stores.
"The retail market has started to pick up once again and is doing pretty well. It is expected that Apple will open more stores going forward," he says.
"Since they pay higher rentals than regular retail occupiers, that too at marquee locations, it will excite more foreign retail owners to come in and open stores."
Jasuja is of the view that this will have a corresponding effect on property rates that are defined by rentals.
"If they are taking marquee locations and, say, are paying 50 per cent higher rent, those locations will see a spurt in rates as well, though not so much because even the brand will take expansion slowly."
For Indian consumers, it will be more than an opportunity to buy straight from the company.
It will also be about getting advice and product support, as well as help from Apple's 'Creative Pros' -- members of the store team who lead 'Today at Apple' sessions and promote the creative potential of Apple's products and services.
There are also likely to be opportunities to attend conferences and community events.
Apple, after all, has been building its stores as 'Town Squares', spaces where people can come, meet, engage and spend time rather than just buy an iPhone or an iPad.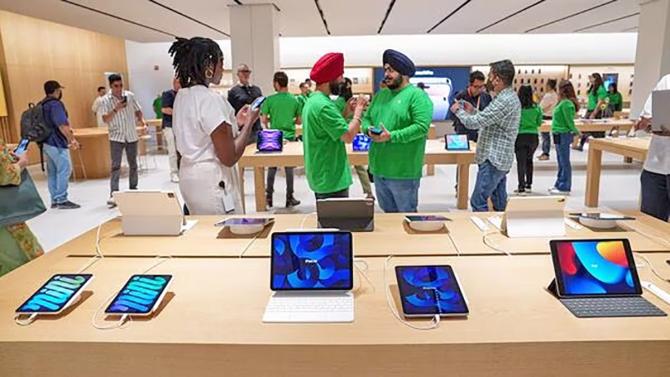 The last launch of an Apple store was in March 2023 in Gangnam, Seoul, South Korea. What added to the buzz was that the store's 150-strong retail team collectively spoke over a dozen languages.
Back to realty check. The presence of an international brand's store, which is much in demand, also has a direct impact on the location.
"The premiumness of the location goes up. It is a marker of the location being the best. The image of the (chosen) malls will also rise in the eyes of customers," says Jasuja.
Vivek Rathi, director research, Knight Frank India, says the development signifies the aspirations of the Indian consumer.
"Many real estate projects now reflect the sentiment of such an aspirational consumer, and the supply side too gives the confidence of creating such landmarks."
Store launches of international brands are known to draw crowds.
In 2012, when coffee chain Starbucks opened its first outlet in India in Mumbai, it was greeted with mile-long queues of people waiting to grab a cuppa. The queues were as long when the chain came to Connaught Place in Delhi.
Likewise, when Japanese apparel brand Uniqlo launched its store at Ambience Mall in New Delhi in 2019.
Shreya Mago, a 25-year-old Delhi resident, says she waited in line for two hours to get her hands on trousers that she'd been obsessing over since she'd seen them on her cousin.
The arrival of H&M and Ikea has caused a similar frenzy.
That said, Samit Sinha, founder, Alchemist Brand Consulting, feels the buzz isn't what it used to be in the 1990s.
"As someone born in the '60s, we hadn't even heard of most foreign brands, let alone seen them. These were really exotic and unreachable for us," he says.
"It was only after 1991 that things changed almost overnight and people felt they were really part of a global village. I think that kind of excitement of looking at foreign brands cannot be captured."
While it is great news for Apple aficionados and no doubt there will be huge queues outside the stores this time round as well, Sinha says "it will be more about loyal consumers of what has now become a cult brand".
The rise of e-commerce, too, has aided the availability of foreign products in the country, so the excitement isn't what it was when people were deprived of them, he says.
As an example, he brings up American ice-cream brand Haagen-Dazs, which launched its flagship store in Delhi in 2009.
"We knew of a lot of these brands and we'd think that when Haagen-Dazs comes to India, that will really change things. But nothing really happened. It was not a big deal."
Apple and ice-cream, though, are two different things. The launches this week might establish that.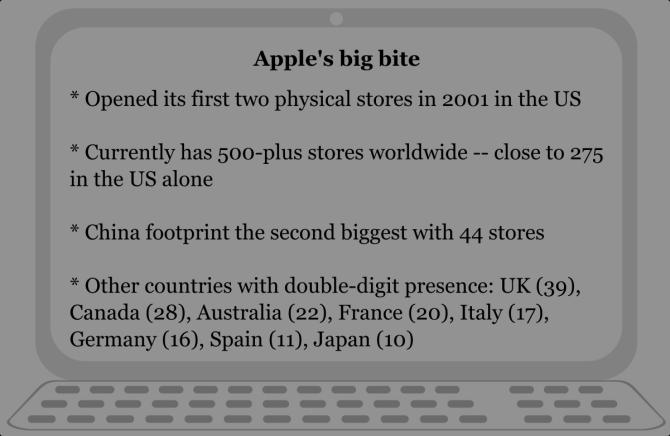 Feature Presentation: Ashish Narsale/Rediff.com