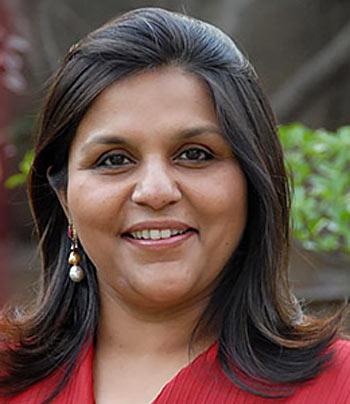 IMAGE: Sangita Reddy, executive director, Apollo Hospitals. Photograph: Courtesy Apollo Hospitals.
Sangita Reddy, executive director, Apollo Hospitals, discusses their ambitious expansion plans which include a rehab and physiotherapy chain, digitisation of personal health records and healthcare start-ups following an infusion of funds from the International Finance Corporation.
Apollo Health and Lifestyle raised Rs 450 crore by diluting a 29 per cent stake to International Finance Corporation this week. Sangita Reddy tell Gireesh Babu/Business Standard that they are open to investing in healthcare start-ups.
You have just raised funds from IFC. What does it mean for the company?

IFC has come in with an investment of Rs 450 crore into Apollo Health and Lifestyle and it will hold a 29 per cent stake in the subsidiary.
Apollo Health and Lifestyle operates seven formats, which include Spectra, Cradle, Clinics and Sugar Clinic. This money will be used for expansion.
We are on track to achieve a turnover of Rs 450 crore this year. The plans will make sure that we will grow upward of 40 per cent per year.

Apollo has recently entered into a joint venture with Italian rehabilitation hospital specialist Kos Group. What is the size of the rehabilitation market and what are your plans?

India's rehab and physiotherapy markets are estimated to be around Rs 2,000 crore.
Through the venture, we are trying to learn the contours of running a good rehab centre. Kos is a leading rehab institution in Europe and has 6,000 rehab beds in Italy. They have time-tested rehabilitation protocols and procedures.
Once we see how this pans out we will make an expansion plan. It is not a chain concept right now. People are travelling from all over the country to come to the rehab centre we set up in Hyderabad. Ours is the only centre in the country with Exoskeleton, a comprehensive gait therapy robotic tool to enable bedridden people to walk, and Armeo Power for arm and hand rehabilitation.
We are seeing good results, but we need to analyse this business for two years. We will break even next year. There is opportunity for at least five to seven such centres in the country, but we are cautious and will take decisions after evaluating the results.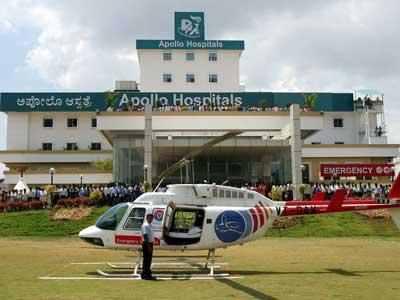 IMAGE: Apollo Hospitals, Bangalore. Photograph: Courtesy Apollo Hospitals.
What is the status of digitisation in Apollo Hospitals?

We have our own personal health record, where all the investigations and summaries related to patients go. We have over 5 million PHRs.
Our doctors are also becoming more and more digital. My aim is by the end of 2017 most of our major hospitals should be paperless. We have launched Ask Apollo, a tele consultation platform for national and international patients.

One of the things you can expect in India soon is the Internet of Things within the healthcare environment. Our aim is to connect all the devices in the Intensive Care Unit so that a nurse does not have to keep on doing procedures. We partnered device manufacturers to bring in this technology, but the integrating platform is ours.

Are you looking at acquiring healthcare start-ups?

We are open to the idea.
We have made one or two very small investments, at a personal level. If you look at start-ups, there are multiple players in patient-facing B2C apps such as Practo and HAP.
On the B2B side, there is a potential to link hospitals and insurance companies because the methodology for reimbursement through the TPA takes a lot of time. I think there is good potential there.
An integrated platform to bring together all devices is another area we will look at. We have so far connected seven devices on this platform and will continue to do more. But right now we have nothing on the cards related to such investments.