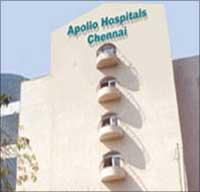 Apollo Hospitals Enterprise has postponed plans to list a business trust on the Singapore Stock Exchange, expecting to improve its rating with completion of some of its projects before a foreign listing.

Speaking on the sidelines of Women Managers' Convention 2014, organised by the Madras Management Association, Preetha Reddy, managing director, said, "We have postponed our plans for listing on the Singapore Stock Exchange. We were actually expecting to do it by end of this year."

She said there were so many projects under implementation that an improved rating would be beneficial for the company during listing later.

However, the chain has not yet finalised when it would list in Singapore.

The listing would help the company expand.
It plans to set up 2,310 beds across the country by financial year 2016 with an investment of Rs 2,100 crore (Rs 21 billion), of which it had invested Rs 616 crore (Rs 6.16 billion) till December 31, according to a company document.

Apollo is also increasing presence in speciality health care, especially cancer care.

It has eight cancer care hospitals and plans to double this in three years, with the final goal to have 20 such centres, a company senior said.

Plans for around four new cancer care hospitals are afoot at present, said sources.

Earlier, senior officials said while there were plans to raise funds by selling properties, Apollo was waiting for the regulator to finalise norms for real estate investment trusts.

The Securities and Exchange Board of India issued a set of proposals on these in October last year.

Reddy did not reveal any more about these plans.

These trusts are investment vehicles for investing primarily in completed, revenue-generating properties.

The income generated through rents on such properties is then shared among the investors.

By listing the trusts, companies are able to attract private equities.