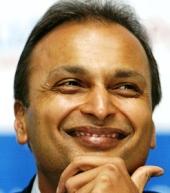 Prime Minister Manmohan Singh has selected Anil Dhirubhai Ambani Group chairman, Anil Ambani, to head the ambitious India-China CEOs Forum.

The Forum aims to achieve $100 billion (Rs 4,60,000 crore) worth of two-way trade by 2015, according to a statement issued by ADAG.

The CEOs Forum was announced during the visit of Chinese prime minister Wen Jiabao here in December.

It would also comprise who's who of the Indian industry as its members.

Some of the prominent names are Anand Mahindra, Tulsi Tanti, N Chandrasekaran, Yusuf Hamied, Prashant Ruia, R Seshasayee, Baba Kalyani and Gautam Adani.

The objective is mainly to iron out several trade and investment irritants and enhance the mutual economic relationship.

Last year, during the high-profile meeting between India and China, both sides agreed to take measures to promote greater Indian exports to China with a view to reduce the trade deficit.

India has a trade deficit of around $20 billion as a result of which it has asked for greater access to Chinese markets for Indian goods and investments in areas such as infrastructure, telecommunications, software and pharmaceuticals.

In November, Reliance Power and the leading Chinese power equipment manufacturer, Shanghai Electric Corporation, entered into an $8.29-billion deal for the supply of 36 coal-fuelled power plants to be set up in India.

In 2011, Reliance Communications obtained a loan of $1.33 billion from China Development Bank.

The bank has also given RCom credit facilities worth $600 million for the purchase of cutting-edge telecom equipment from Chinese vendors Huawei and ZTE.


Image: Anil Ambani