Riding on a strong stock market rally, Anil Ambani-led diversified business conglomerate Reliance Group has crossed Rs one lakh crore market valuation as share prices of all its companies have gained sharply.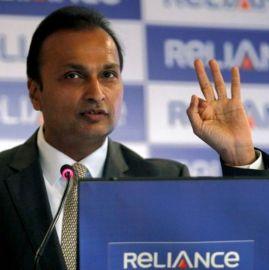 This marks a significant turnaround since last year when the group's market capitalisation had touched a low of Rs 50,000 crore (Rs 500 billion) amid a wide-spread bearish trend in the stock market.
As per the latest figures available with the leading bourse BSE, the combined market capitalisation of the four listed companies from Reliance Group stands at Rs 101,832 crore (Rs 1.02 trillion), following a rise by over one-fourth in just about two months.
Among the four listed group firms, telecom venture Reliance Communications tops the chart with a market cap of Rs 34,377 crore (Rs 343.77 billion), followed by Reliance Power at Rs 30,548 crore (Rs 305.48 billion), as per the BSE data.
Besides, Reliance Infrastructure now commands a market cap of Rs 20,797 crore (Rs 207.97 billion) and financial services arm of the group, Reliance Capital, is now valued at Rs 16,110 crore (Rs 161.10 billion).
Markets have been on a upswing in recent months, buoyed by a positive outlook and hopes of strengthening fundamentals of the Indian economy post elections.
On Friday, the stock market benchmark Sensex closed at a life-time high of 25962.06, barely 38 points away from the 26,000-points milestone. (On Monday, the index attained the 26,000 mark)
The cumulative market capitalisation of all listed companies on the BSE has also crossed Rs 92 lakh crore (Rs 92 trillion) mark.
Among the large groups, Tatas remain the country's most valued with combined market capitalisation of over Rs 8 lakh crore (Rs 8 trillion) now, followed by HDFC Group (Rs 3.7 lakh crore or Rs 3.7 trillion) and Mukesh Ambani-led Reliance Industries group (Rs 3.35 lakh crore or 3.35 trillion) in the top three.
The share price of group companies of Reliance have also gained amid a positive outlook for the sectors in which they operate, such as telecom, power, infrastructure and finance.
Besides, Reliance Communications last week raised Rs 4,800 crore (Rs 48 billion) through a placement of shares with qualified investors.
Also, Reliance Infrastructure's Mumbai Metro started commercial operations last month and Reliance Power's Sasan UMPP has started generation of power from its 4th unit.
Reliance Capital last week picked up stake in global media service giant Prime Focus, while merging assets of the group firm Reliance MediaWorks with that company. Reliance Capital has also announced plans of making exit from other non-core segments.