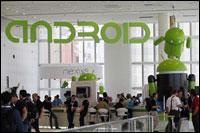 The most popular targets among cyber criminals in the third quarter of the current year were Android versions 2.3.6, popularly known as 'Gingerbread', and 4.0.4, also known as 'Ice Cream Sandwich', according to an analysis done by Kaspersky Labs.
The rapid growth in the number of new mobile malicious programs for android continued in the third quarter, prompting the specialists at Kaspersky Lab to identify the platform versions most frequently targeted by cyber criminals.
Android 2.3.6 Gingerbread accounted for 28 per cent of all blocked attempts to install malware, while the second most commonly attacked version was the new 4.0.4 Ice Cream Sandwich, which accounted for 22 per cent of attempts.
"Although Gingerbread was released back in September 2011, due to the segmentation of the Android device market it still remains one of the most popular versions, which, in turn, attracts increased interest from cybercriminals," said Yuri Namestnikov, senior malware analyst at Kaspersky Lab.