'If technology becomes affordable and we have the infrastructure, it will be a different story. But India is a big country, and it is not easy to reach from one point to the other. Outside the big cities we have to use diesel and petrol cars.'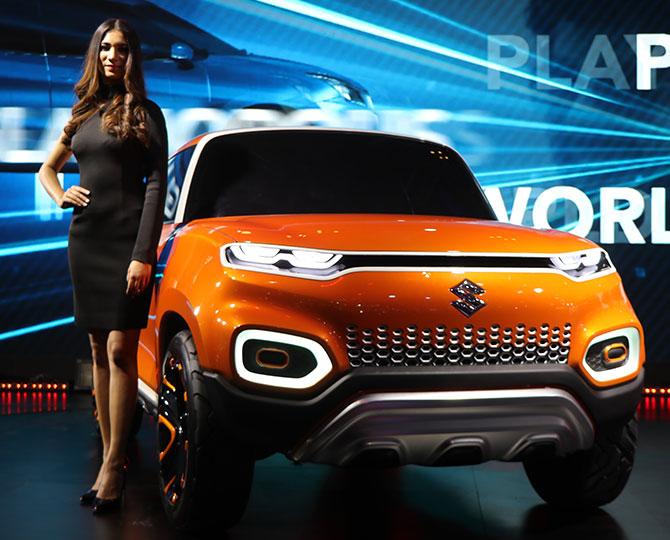 IMAGE: At the Auto Expo last week in Greater Noida, Maruti unveiled their electric car prototype the Maruti Future S Concept. Photograph: Rajesh Karkera/Rediff.com.
Maruti Suzuki, which sells every second car in India, believes electric vehicles alone cannot solve the challenges of energy and emission.
Its strategy will be to offer a mix of electric and hybrid vehicles.

"Though we are aiming for EVs, it is very difficult to change things overnight," says Maruti Suzuki's managing director and chief executive officer, Kenichi Ayukawa.

The car maker recently announced it would introduce EVs in India by 2020 in a partnership with Japanese peer Toyota. This was in response to the government's indication of going all-electric by 2030.
Even after 10 years, switching all cars to electric will be difficult. "If technology becomes affordable and we have the infrastructure, it will be a different story. But India is a big country, and it is not easy to reach from one point to the other. Outside the big cities we have to use diesel and petrol cars," said Ayukawa.

"In order to improve fuel efficiency and make products environment friendly, we believe that hybrid technology is an option. We would like to push that in products."

The car maker believes that hybrid technology, besides improving efficiency, will also bring down the cost of EVs since both use common batteries, motor and some parts. "These are quite common to EVs. Hybrids will help in increasing localisation of components," said Ayukawa. At present, the company offers hybrid features in the Ciaz, S-Cross, and Ertiga.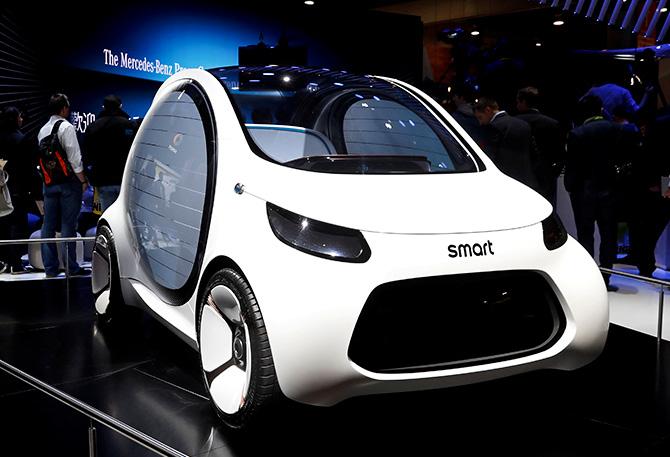 IMAGE: The next three years will see a fleet of of battery cars arriving in the global market. It is imperative India doesn't lag behind. This Smart Vision EQ for two concept car was displayed in the Mercedes booth at the Las Vegas Convention Center January 2018. Photograph: Steve Marcus/Reuters.
Hybrid vehicles carry a 15 per cent cess. "We have been requesting the government to lower the cess. We are appealing (to them) about the importance of hybrid technology in order to improve the country's energy security and environment, since EVs cannot appear suddenly."

The Society of Indian Automobile Manufacturers has said that 100 per cent conversion is possible only by 2047. It also said that full shift to electric mobility was possible only in public transportation vehicles by 2030, by when only 40 per cent of new personal vehicle sales would be electric.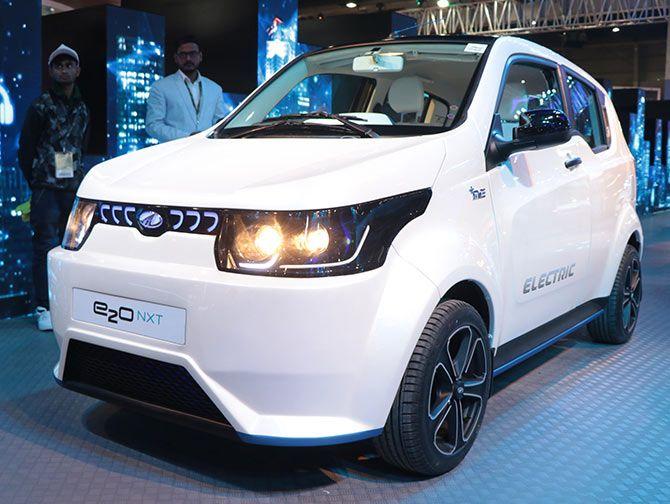 IMAGE: Mahindra is likely to jump ahead of Maruti in the EV market when it brings out this Mahindra e2o NXT, a 4-seater hatchback in the next year. Photograph: Hitesh Harisinghani/Rediff.com.
Ayukawa also said the company expects a 'realistic' approach to EVs from the government. "We need studies to determine feasibility. Switching petrol and diesel vehicles to electric is a big change. Of course, we will bring in EVs in 2020. However, we need a comprehensive ecosystem for EVs. The industry, government, customers, and system need to change if success is to be achieved."

The company believes affordability is another concern in promoting EVs. "In the current situation, it is not easy to bring down prices to an affordable level. We are trying to find solutions. Many people buy cars priced at Rs 5,00,000. If this goes up to Rs 1 million to Rs 1.2 million in case of EVs, some may not buy."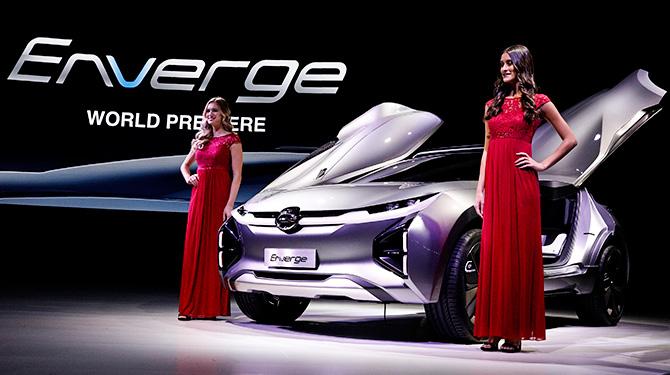 IMAGE: A spiffy looking GAC Enverge electric concept car that was showcased at the North American International Auto Show in Detroit, Michigan, January 2018. Photograph: Brendan McDermid/Reuters.
The policy was clearly in favour of Make in India, said Ayukawa. "And that not just applies to the car, it also applies to components. As much as possible, we must do local production. That will be our responsibility and target. We have to consider local manufacturing, otherwise our component industry and employment will suffer."

This financial year saw some challenges due to the implementation of the goods and services tax and fluctuation in tax rates of vehicles. Ayukawa expected Maruti Suzuki to close this financial year according to plan (it has seen growth of 14 per cent).
"The next financial year is very important, as it will be the final step before we reach the milestone of 2 million vehicles. Based on the feedback from the market, the economic factors appear to be stable and the industry should grow at the same or better rate next year. We will try to maintain current growth as far as possible."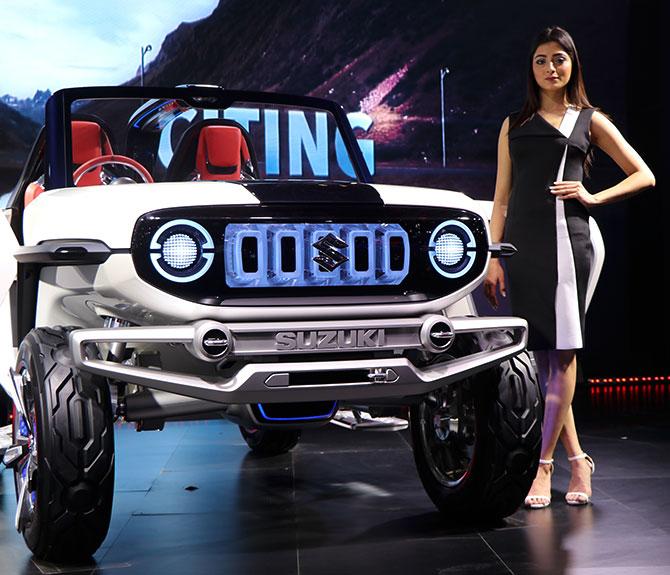 IMAGE: Another Maruti EV prototype. Here is the Suzuki E-Survivor concept. Photograph: Rajesh Karkera/Rediff.com
On input cost push, he said raw material prices had been rising and the trend may continue into next year. "We have to live with it and try to control costs with volume expansion and improve our productivity," said Ayukawa.