Gujarat Co-operative Milk Marketing Federation (GCMMF), owners of one of the largest food brands in India - Amul - is looking to push its infant food product, Amulspray, aggressively as competition in the Rs 2,500-crore (Rs 25 billion) baby-food category increases.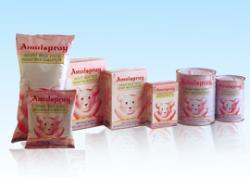 French company Danone, ranked No. 2 globally in baby foods after Switzerland-based Nestle, is stepping up its efforts in the category after its acquisition of Mumbai-based pharmaceutical company Wockhardt's nutrition business, including brands such as Farex, the oldest baby-food product in India, Dexolac and Nusobee.

Amul remains the most affordable of baby food brands at Rs 250-270 for a one-kg pack and Rs 130-35 for 500 grammes.

R S Sodhi, MD, GCMMF, says this is the only lever available to push the product in a category where advertising is prohibited. "We will continue pushing Amulspray via retail channels since doctor referrals is not ethical in an FMCG category such as baby foods," he says.

Farex has a share of 8 per cent in baby foods in India, coming second after Nestle, which has a share of close to 80 per cent.

Nestle's brands in India include Nestum, Nan, Lactogen, Nestogen and Cerelac. Amulspray, on the other hand, has a share below five per cent, according to industry estimates.

In a recent interaction with Business Standard, Danone's vice-president for baby nutrition in the Asia-Pacific region, Dariusz Kucz, had said the focus would be on local manufacturing as the company contemplates
launching new variants in India.
Danone has a manufacturing unit in Chandigarh, Punjab, which came as part of the acquisition from Wockhardt. Here, the entire baby nutrition portfolio from Farex, Dexolac and Nusobee is manufactured.
Local manufacturing would also help the company bring down price points, since products are priced anywhere between Rs 200 and Rs 300 for a 500-gram tin, Kucz had said.
Competitors such as Nestle are a bit more aggressive in their pricing thanks to local manufacturing capabilities. For instance, a 350-gram pack of Cerelac in Mumbai costs between Rs 140 and Rs 150, depending on the flavour (there are at least six to seven flavours in the marketplace). A 350-gram pack of Lactogen starts from Rs 200, while Nan costs as much as Rs 340-345 for a 450-gram pack.
But analysts say that the road-ahead for Amulspray is not likely to be easy given the hold of Nestle and Danone in the category. "These companies typically invest heavily in their products. Their research and development capabilities are strong," says Abneesh Roy, associate director (research) at Edelweiss.
Danone's head of baby nutrition in India, Laurent Marcel, had said the company proposed to leverage its expertise in nutritional science to come up with formulations that were tailor-made to Indian requirements.
Nestle is already doing that with a plethora of options in the marketplace. For instance, mothers of infants can choose between rice-based (Nestum) and wheat-based (Cerelac) products, not to mention variants available on the basis of a child's age.