With launch of second plant in Gujarat, company gets ready to take on peers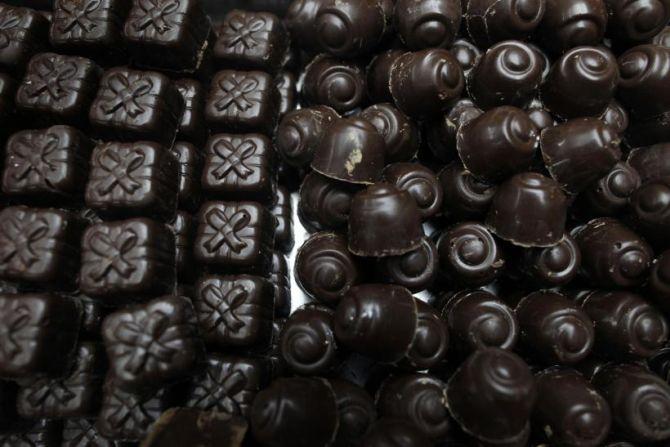 Once a popular name in chocolates, Amul is taking a different route to regain market share as competition heats up in the Rs 8500-crore category.
The Gujarat Cooperative Milk Marketing Federation (GCMMF), the owner of Amul, will focus on dark chocolates, known for bitter after-taste thanks to higher cocoa content, as opposed to regular chocolates.
Amul was the number three player until a few years ago on the back of a portfolio of largely regular chocolates.
But, continued domination of Mondelez and Nestlé, who are the number one and two players in the category, and the entry of newer names such as Ferrero and Mars over the past few years has pushed Amul to the fringes of the category, sector experts say.
GCMMF plans to get its mojo back in the market, say experts, focusing its attention on the discerning chocolate consumer.
The ball has been set rolling, explains R S Sodhi, managing director, GCMMF, with Prime Minister Narendra Modi inaugurating a second chocolate plant at Anand, Gujarat, on Sunday.
"Our total in-house production capacity (for chocolates) will touch 1,200 tonnes per month following the launch of the second plant.
"Our old (chocolate) plant, located on the same premises as that of the new plant, could produce only 200 tonnes (of chocolate) per month.
"The new plant clearly increases our capacity substantially and a bulk of this capacity would be devoted to making dark chocolates.
"Our focus is on dark chocolate. There are consumers wanting a premium chocolate experience, which we want to give with our brand," he says.
But, experts say GCMMF's move to trade up is linked partly to the changing dynamics of the chocolate category.
In the last one year and a half, rivals such as Nestlé have increased market activity in chocolates, which gives the firm over 12 per cent of its annual revenue, in line with its plan to reduce dependence on instant noodle Maggi.
Close to half a dozen products have been launched in chocolates by Nestlé.
Chocolate bars, on the other hand, continue to be led by brands such as Cadbury from Mondelez.
The challenges for GCMMF don't stop there. Kolkata-based ITC is set to throw its hat in the regular chocolate market ring with a mass-market brand shortly.
B Sumant, president of ITC's FMCG business, had said in a recent conservation with Business Standard the company was looking at a wider audience after starting out in the luxury chocolate space with a brand called Fabelle.
Sources say that ITC's new chocolate brand could be out by March next year, implying that GCMMF has much work to do.
Image used for representation purpose only
Photograph: Reuters