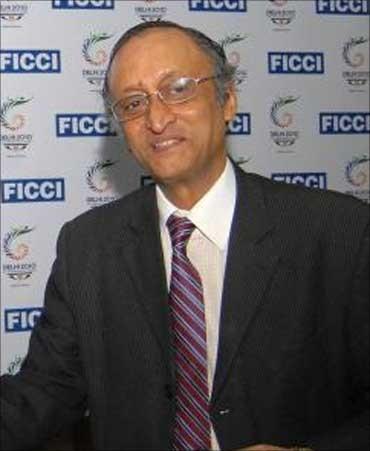 West Bengal Finance Minister Amit Mitra was on Friday named the new chairman of the Empowered Committee of State Finance Ministers on Goods and Services Tax.
He will succeed Kerala Finance Minister K M Mani, who had to resign in November over corruption charges.
Mitra, an economist who for long was Secretary General of industry association Federation of Indian Chambers of Commerce and Industry before joining politics in 2011 and becoming a minister in the Trinamool government in West Bengal, was elected at the meeting of state finance ministers that was also attended by Union Finance Minister Arun Jaitley.
He will be the second chairman of the panel, which is tasked with framing rules for roll out of the ambitious Goods and Services Tax regime, which will subsume all indirect taxes and create one national market, from West Bengal.
Minister of State for Finance Jayant Sinha said Mitra was elected head of the Committee at the meeting of state finance ministers on Friday.
Mitra, who couldn't attend the meeting as he was unwell, was informed about the decision of the committee over phone by Jaitley.
The head of the Empowered Committee of State Finance Ministers has always been from an opposition ruled state.
Communist Party of India-Marxist's Asim Dasgupta held the post when United Progressive Alliance was in power.
Sushil Modi from Bihar succeed him during the UPA regime.
In July 2013, Jammu and Kashmir Finance Minister Abdul Rahim Rather was appointed chairman.
Mani succeeded him in March last year.
"We are hopeful that GST will be passed in Budget session (beginning next week).
"We are getting support from all the states present here, all parties on GST," Sinha told reporters in New Delhi."
Lok Sabha has already passed a Constitutional Amendment Bill for bringing in GST, but the same is pending in Rajya Sabha where the ruling NDA does not have a majority.
After the passage, a Bill of the GST itself would come before Parliament and all state legislatures. Following this, rules will be framed.
The absence of a chairman of the Empowered Committee had derailed its meetings where key issues on the proposed laws and rules were to be discussed.
After Mani quit, only one meeting of the Committee has taken place.
In November, Delhi Finance Minister Manish Sisodia was selected to chair a meeting for a day.
It had decided on a sub-panel to decide on the issue of a threshold, as states were divided on whether GST should kick in from Rs 10 lakh (Rs 1 million) or Rs 25 lakh (Rs 2.5 million) of annual turnover.
Another meeting was to take place in December but did not happen.
The committee was to draft a GST law and business processes for payments, refunds and returns filing.
GST, which will usher in a single rate indirect tax regime in the country by subsuming excise, service tax, octroi and other state levies, was originally proposed to be implemented from April 2010.
After Congress blocked the bill in Rajya Sabha, the April 2016 deadline is most likely to be missed.
Image: Amit Amitra. Photograph: Rediff Archives