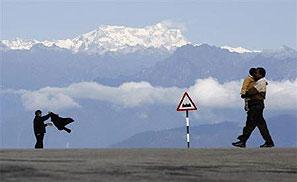 Tourism might have been pegged as a big-ticket item for economic growth, but Tourism Minister K Chiranjeevi's latest attempt to fully realise the potential of the Himalayas could come at a cost. The minister is planning to launch a campaign, 777 days in Himalayas, in September, to make summer travel attractive for foreign tourists.

The announcement comes at a time when two hill states, Uttarakhand and Himachal Pradesh, have borne the brunt of nature's fury, and restricting tourism in eco-sensitive zones is being seen as a step forward. To maintain ecological balance, countries like Bhutan have kept tourism in check. Tourism in Australia is restricted in ecologically fragile zones like the Great Barrier Reef.

"Tourism is an important activity, but if it is not regulated, it will lead to disasters. Houses, hotels have all come up so close to rivers, flouting all rules," said Sunita Narain, director-general, Centre for Science and Environment.

Even as the Uttarakhand floods are being referred to as man-made disasters, experts say such disasters are waiting to happen at places like Ooty and Munnar. "People go to these places for greenery and quiet. With increased demand, so many buildings and hotels have come up that it is bound to take a toll on the ecological balance at some point," a travel expert said.
Tourism spots like Kerala have recently started putting a rider on all tourism-related projects that make it compulsory for firms to give "sustainable practices" assurances.
These include proper waste disposal mechanisms and environment-friendly steps.