American Express is in a hurry to gain scale. It is in talks with banks, private as well as government-owned, to issue credit cards to their high net worth customers. Some innovation in the mobile space is under way.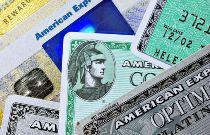 Companies have been handed out virtual plastic, which their employees can use to book air tickets and hotels. And there is rapid expansion to new merchant establishments which accept its cards -- fuel stations, grocery stores, utilities and so on.
With consumer confidence back, it is indeed the right time to expand. The economic slowdown, and the fears of joblessness, had put the brakes on consumer spending on credit cards.
Delinquencies had risen sharply. But all that is distant memory now. Credit card spends are up 16 per cent so far in 2010, as compared to the same period of 2009. (Amex claims its growth has been higher during the period: 28 per cent.) Even international spends by Indian travelers have rebounded.
Everybody expects that, if all goes well, the halcyon days to 2007-08 could soon be back for the industry.
Only 2 per cent of total consumer spending is on cards, which leaves a huge upside for growth.
The Amex strategy has four legs: Expand the base of customers, offer more choices, raise customer service and move customer spends from discretionary to the everyday category.
Amex's business model is slightly different from others. With its credit and charge cards, it tries to reach only top-end customers with an annual household income of Rs 800,000.
They spend more than the lower income categories on plastic and are regular with their payments. So, delinquencies are low.
On the flip side, Amex perhaps earns less than others from rollover of credit. But, because the volume of purchase on an Amex card can be larger than on other cards, it charges a higher commission of 2.5 per cent from merchants.
(The industry norm is 1.5 per cent.) This perhaps makes up for the lower rollover income. Amex CEO (India) Shailesh Baidwan says that merchants are more than happy to cough up higher commission to Amex because they get more business. As a result, while Amex's share in the number of cards is in single digits, its share of spend is in double digits, adds he.
"We are seeing good double-digit growth in the number of transactions as well. We see spends and transactions coming back at the top end.&" Baidwan, educated at Delhi University and Indian Institute of Management, worked with Nestlé and Visa before he joined Amex in Singapore in 2004.
Rewarding enough?
But hasn't credit cards become a low-margin, high-volume business? To begin with, there are delinquencies, which have eroded profit margins. Banks are relying more and more on Credit Information Bureau (India) Ltd to block errant consumers.
A bigger problem seems to be rewards. In order to get customers, most banks are in a race to offer reward points.
The scale keeps getting bigger and bigger, and that has started to eat into the profits.
Most banks offer rewards on joining which far exceed the annual fees. Amex, for instance, charges Rs 50,000 as one-time fee for its platinum credit card, while the rewards handed out upfront add up to almost Rs 60,000.
This makes customer acquisition cash negative. Baidwan says that aggregation at a high level helps Amex buy these features at a discount; so, while the rewards look to the consumer in excess of the fee, the cost may actually be lower.
Amex, says Baidwan, has been the pioneer of rewards in the credit cards business. "For us, it has been an intrinsic part of our value proposition. We were the creators of this scheme. It is one of the key reasons why consumers spend on our cards. There are no surprises over there,&" says he.
Unlike others, Amex offers portability of reward points across countries; consumers have the choice of converting these points into currency for transactions. But Baidwan admits that there could be some variation in the investments in rewards between emerging and mature markets.
Clearly, the cost of running such schemes could be higher in an emerging market like India. Being closely-held, Baidwan does not discuss the financial numbers of Amex India.
Worldwide, Amex's cards business is reasonably profitable. In the quarter ended June 2010, its card business reported a net income of $522 million on a turnover of $3.6 billion. (Cards are Amex's largest business; in the quarter ended June 2010, cards accounted for over 50 per cent of its turnover and net income.)
Amex charges a fee on all its cards, which starts from Rs 3,100 per annum. This removes non-serious consumers from the portfolio. "Our products are sold the way private banking or wealth management products are sold. We analyse the lifestyle of the customer and then devise the right product,&" says Baidwan.
Amex, says he, has the largest portfolio of products. For frequent fliers, Amex offers the Kingfisher First American Express card; for those into a high-profile lifestyle (golf, fine dining and so on), it recommends the platinum card.
Baidwan's predecessor, Rajesh Saxena, had told the strategist last year that a card, along with the features loaded on it, can cost up to $15 (around Rs 700) in a year. So, it is essential to make consumers spend on their cards.
The logic is: Higher the expenditure on the card, the higher the commission Amex earns from merchants; and higher the earnings, the larger are the rewards that can be offered to consumers.
Amex claims that the average spend on an Amex card is four times that on other cards. And, according to Baidwan, the credit card spends of high net worth individuals in the country are similar to those in mature economies like Hong Kong, Singapore and even the United States.
Crowded space
But isn't the market place crowded? Many banks have carpet bombed the market with their debit cards. Any person who opens an account gets a card free. Look at the numbers.
While there are 19 million credit cards in the country, there are over 188 million debit cards. Plastic in circulation is growing 24 per cent per annum. Much of this growth is fuelled by debit cards.
But, says Baidwan, credit cards, which are around 20 per cent of the plastic, account for 56 per cent of total transactions. It is logical to conclude, therefore, that debit cards are used essentially as ATM cards. So, the invasion of debit cards by banks does not bother him.
Baidwan says that Amex's charge card, where a consumer deposits money every month and then spends against it, is a smarter debit card.
Users get rewards and also an interest-free grace period of 51 days. And, as people have turned cautious after the last monetary meltdown, a charge card is the right product for the times, says Baidwan.
"Debit cards improve the familiarity of first-time bank customers with plastic, which is good for the industry. They move up the value chain to credit cards and charge cards as they mature,&" says he.
But will the worldview change if the proposed partnership with banks works out? Baidwan says on offer will be Amex's credit and charge cards. Debit cards, where spends are low, look an unlikely prospect. But the alliances could take various forms.
There could be co-branding, where the bank's logo will get carried on the cards. The cards could be delinked from the accounts. The Amex cards may be offered only to clients above a net worth threshold.
One thing is clear: Amex is unlikely to dilute its insistence on its eligibility criterion (annual household income of at least Rs 800,000) and the screening of spending habits. Of course, the partner banks will be those which do not have their own cards in the market at the moment.
The key for Amex to gain scale will be the base of merchants who accept its cards. Baidwan claims that Amex meets almost 85 per cent of all plastic transactions.
Though its customers are located in large cities, its cards are accepted across the country. And it wants to expand the base. Baidwan says that it has started negotiations with Meru to accept its cards inside its taxis.
There is also a conscious shift to move the usage of cards from discretionary spend to everyday spend at, say, petrol stations, supermarkets and utilities like power and telecom.
This is because everyday spends are steady. Too much reliance on discretionary spends makes the business model too dependent on the economic cycle -- such expenditure comes crashing down at the first signs of nervousness in the market.
Amex also claims that it tracks the online behaviour of its customers in order to improve its acceptance at popular websites.
The online medium is used primarily for airline tickets, hotels and payment of utility bills at the moment; but the indications are clear that this line of the business will grow in the future. A high-powered team is also looking at how credit card usage can be encouraged on mobile telephony.
The proof of the strategy lies in customer satisfaction. The industry has had huge issues with customers in the past. Where does Amex stand?
 To measure the success of its initiatives, Amex reaches out to its customers on a weekly basis, and this is done online by a third party.
"Our goal is to ensure that the 'top box' satisfaction level remains high, and 'bottom two boxes' level remains low (5 point scale starting with excellent and ending at poor). We also have the voice of customer programme — a tool that allows our frontline staff to capture customer feedback on a day-to-day basis. This information is analysed to prepare a list of top customer concerns every month, which are discussed by the senior leadership team on a fortnightly basis to devise solutions and measure progress. Over the last three years, our customer satisfaction score has moved up 25 per cent,&" adds an Amex spokesperson.
In the US, customer satisfaction amongst customers of credit cards is tracked by JD Power and Associates. In the fourth edition of the study, released some time in August, Amex was ranked highest in overall satisfaction among 10 of the largest card issuers in the US that were ranked in the study. In India, much will depend on how Baidwan moves in the days to come.