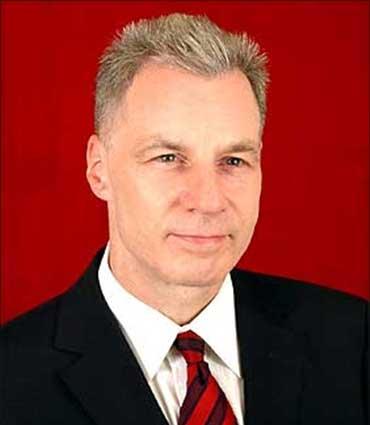 There is deep angst and growing concern by America Inc, over India's Preferential Market Access policy and fears that as a quid pro quo, lawmakers in the US Congress may limit or even prohibit the free movement of Indian technical professionals, including quashing efforts to expand the H-1 B visa program.
In an extensive interview with rediff.com, Ron Somers, president of the US-India Business Council, said the PMA policy was "deeply troubling to American information technology companies," particularly whereby the Indian government wants to mandate the manufacturer in the indigenization of electronic goods in the manufacturing industry in the country.
Somers acknowledged that "there are two reasons for this, and both reasons are valid. India is trying to create jobs and when you have a young population –54 percent of which is under the age of 25 - jobs, and jobs and more jobs is the imperative."
"And, India, as the middle class continues to grow and to flourish, it importing more and more electronic goods and many of these electronic goods, unfortunately are not being manufactured in India," he said. "So, there is a compulsion to develop an indigenous manufacturing industry in the country, and we appreciate that."
But Somers said, "where the companies that I am hearing from are concerned is that manufacturing shouldn't be mandated or forced, but it should be incentivized on market-based principles."
He said there is no challenge or problem "with the fact that countries when they procure goods - electronic goofs - particularly from the public sector procurement side, that they may want to have a preference for indigenous manufacturing –in other words a Buy India preference."
Somers agreed that the United States, the Department of Defense, or the Secretary of State "or any of our government agencies procure, they always have a Buy America preference. So, we understand our public procurement how there can be a preference for locally made manufactured goods."
But he said, "when it bleeds into the private sector business models that it causes and raises concerns and apparently in the gazette notification in India, regarding the PMA policy, there is a reference to licenses and there is also references to software services and this bleed into health, financial services, education."
"When you think of the applications of software and how that gets into the private sector models of various companies, it would raise alarm bells where companies would say, 'you mean that means we need to begin manufacturing in India or does that mean we will be exempted from this PMA policy?'"
Somers reiterated that "this ambiguity that appears to bleed into the private sector business model has set off alarms."
He said, "Now the worry I have is that what we don't want to see happen is any quid pro quo where we know that India's main talking point has been consistently the free movement of technical professions, and it seems obvious to me that if you advocate for the free movement of technical professionals, you should also be an advocate for the free movement of manufacturing."
"In other words," Somers explained, "Steve Jobs does not manufacture his I-Pad for Apple in the United States - he manufactures the I-Pad globally. He sources parts from Singapore, and from Taiwan, and from China and from India. It's manufactured all over the world and then it is presented to the public."
Somers argued that "the global model is the same for manufacturing as it is for the movement of technical professionals. And, so, here we are in one breath advocating for the free movement of technical professionals and in the other breath we are saying, by the way, you must mandate manufacturing in India."
India's Ambassador to the US, Nirupama Rao, speaking at the Center for Strategic and International Studies on March 15, said, "As we deepen our trade and commercial relationship, we are bound to have issues and concerns on both sides. US industry has spoken to us about some of its concerns relating to Preferential Market Access mandate. There are also specific points raised about India's IPR regime. I think we need to assess these issues from the long term perspective of bilateral cooperation."
She assured America Inc, that " PMA is only applicable to the procurement of electronic products by Government and its agencies, and for those electronic goods having security implications. I am sure you will appreciate that India needs to secure its critical infrastructure, including telecom networks."
Rao said, "This is something, which you would particularly appreciate as it is also a strong priority of the US. In fact, we hope to build mutually beneficial partnerships with the US in this field."
But evidently this has not quelled the concerns in US industry, many of whom have already exhorted the Obama administration and the US Congress to take this up strongly with India, and some industry sources said that at a time when there were move among some lawmakers, particularly in the US Senate to enhance the H-1B visa category in the envisaged comprehensive immigration bill, this PMA policy by India could torpedo those efforts.
One highly placed industry source told rediff.com, "What I don't want to see happen - and this is my biggest fear - is that I really worry that as the immigration bill advances through the US Congress, the last thing we want to see happen is our India information technology firms and even our American firms that rely on the new global knowledge economy, Indian IT companies being hit with visa restrictions and horrible visa fees."
The source warned that "this would cripple the very knowledge economy that we have so assiduously tried to build to together."
He recalled how this "new knowledge economy between the US and India began back in the Y2K time frame where we began working as collaborators and partners in solving the Y2K crisis."
The source said he hoped that Indian firms would help American companies "get clarity on the PMA policy so that there is no question that the private sector business model is not somehow destroyed by the PMA policy and that the mandate doesn't bleed into the business models of these private firms."
"And, likewise, I would hate to see an immigration bill advancing through the US Congress that in any way undercuts or dilutes the global knowledge economy that we have over the years so carefully tried to build together and facilitate the free and uninterrupted movement of technical workers and expertise," he said.
Somers said that the chairman of USIBC Ajay Banga "has been very clear as has USIBC that we don't believe the PMA is a good policy. We think it is going to hurt business, we think it's going to drive companies to take a second look at another tier of investment in India and in the end it's going to hurt job growth in India, not help job growth."
"In other words," he added, "it's going to be exactly counter to what India is trying to accomplish."
Somers said, "On the security issue on PMA, we totally share India's concerns about security. We share with India the exact same concern and it's not about each other, it's about third parties intervening in our cyber-security. We share the same goal on protecting our information technology sanctity."
"And, therefore, rather than force manufacturing to try to protect against that breakdown, we believe it's better to work together as partners in developing a security strategy that strengthens the sanctity of our information technology industry," he said.
But Somers continued to re-emphasise America Inc's argument that "the movement of technical professionals is a very similar argument as the US firms are making, which is global manufacturing is also essential. You don't mandate domestic manufacturing. You enable companies to manufacture where they can source the best equipment, the best technology, the best skills, the best talent to make their products as successful and globally competitive as they can be."
"And, that's the idea of a global model," he said.