Mukesh and Anil will announce two more infrastructure-sharing agreements by mid-June.
The Ambani brothers are in talks to strengthen their new-found bonhomie and are likely to announce two more infrastructure sharing agreements between their respective telecommunication firms by mid-June.
Mukesh Ambani-promoted Reliance Jio Infocomm Ltd last month got into an agreement with Anil Ambani's Reliance Communications Ltd (RCom) to share the latter's inter-city optic fibre network spread across 120,000 km across the nation.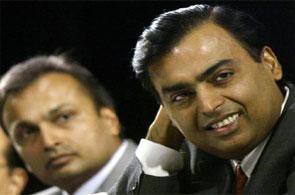 Reliance Jio has pan-India fourth generation (4G) spectrum (2,300 Mhz) and has paid Rs 1,200 crore (Rs 12 billion) as an upfront one-time fee to Rcom for a 20-year agreement to use the infrastructure to launch high-speed data service.
The deal marked a new era of partnership between the brothers, who split their empire into two separate units in 2005. While the world outside is still debating whether the brotherly spirit of cooperation is driving this convergence or it is exigencies of business, RCom has been an immediate beneficiary.
The RCom stock has gained 84 per cent to Rs 105 a share on the BSE since the announcement on April 2. The announcement that the company was in talks with a Samena Capital-led consortium of private equity funds to sell its global communications business unit, Reliance Globalcom, also helped the stock rally.
"Now, the talks for two more infrastructure sharing agreements, respectively for the intra city optic-fiber network and telecom towers, have moved to an advanced stage and are likely to be announced in four to six weeks," said a person familiar with the discussion, who did not wish to be identified. "This is expected to bring far bigger revenue in terms of fee."
Reliance Jio officials were not available for comments. A mail sent to the company did not elicit any response till press time.
RCom has fibre penetration of over 72 per cent in 330 cities across the country where it is currently offering third generation (3G) services. But the utilisation of this fibre as per estimates is not more than 18 per cent. Similarly, in another 690 cities, RCom has fibre which supports its CDMA operations, including its dongle-based data service. Even here, the utilisation is less than 80 per cent. Since these are intra-city fibre networks, it takes much longer to build as several approvals are required for that. Hence, it is costlier asset and expected to fetch higher fee.
But the biggest revenue that RCom can earn from infra sharing agreements with Reliance Jio is from sharing the towers. Reliance Jio has 2,300 MHz 4G spectrum which is not as efficient as 900 or 1,800 MHz used for 2G services. Hence, the company will need about 125,000 towers to launch the 4G service. About a half of this can come from RCom, which has 56,000 towers across the country. These towers currently earn an average rent of Rs 27,000 a month and Reliance Jio is negotiating the price for the bulk deal it wants to get into.
"Our focus is to lead through differentiation in brand, customer service, product innovation, distribution and how the benefits of new technology impact our customers' lives, even lifestyles," said Gurdeep Singh, chief executive officer, wireless, RCom.
"Areas that are not visible to the customer - such as energy, fiber, towers and other back-end passive infrastructure - can be prudently shared between like-minded partners, helping optimize costs and monetising assets," he added.
Such efforts can help the company bring down its Rs 36,000-crore (Rs 360 billion) debt and increase operational efficiency with lower operational costs. It reported a net profit of Rs 105 crore for the quarter ended December 31 with a revenue of Rs 5,301 crore (Rs 53.01 billion).