Through this transaction, Amazon has managed to acquire around a 3.6 per cent stake in the Future group.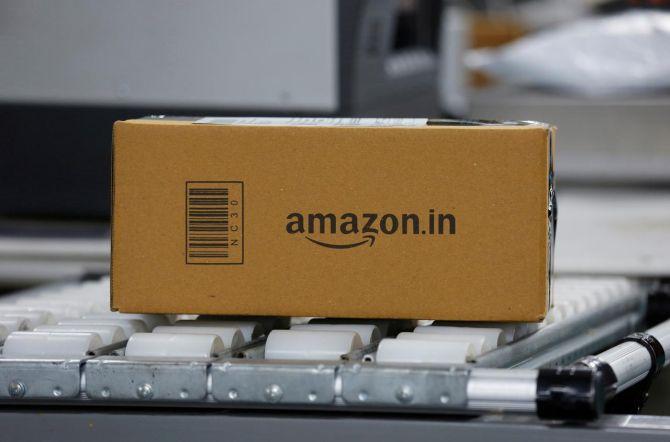 After almost a year of negotiations, global e-commerce and technology giant Amazon.com is acquiring a 49 per cent stake in Future Coupons, the promoter entity of Future Retail.
According to sources in the know, the size of the deal is between Rs 1,500 crore and Rs 2,000 crore.
Through this transaction, Amazon has managed to acquire around a 3.6 per cent stake in the Future group.
"We have been informed by Kishore Biyani on behalf of the existing shareholders forming part of the promoter group and Future Coupons Limited (promoters) that they have entered into a share subscription agreement and a shareholders' agreement with Amazon.com NV Investment Holdings LLC (Amazon)," Future Retail said in a BSE filing on Thursday evening.
Pursuant to these agreements, Amazon has agreed to make an equity investment in Future Coupons for acquiring a 49 per cent stake comprising both voting and non-voting shares.
"Amazon has agreed to invest in Future Coupons, which is engaged in developing innovative value-added payment products and solutions such as corporate gift cards, loyalty cards, and reward cards primarily for corporate and institutional customers.
"This investment will enhance Amazon's existing portfolio of investments in the payments landscape in India," a spokesperson for Amazon said in a response to a query.
"Overall, the growth rate of biscuits has declined to levels of 2-2.5 per cent in April-June 2019 (first quarter, or Q1) and the biggest contributor to this has been the GST rate of 18 per cent slapped on the (biscuit) segment priced below Rs 100 per kg.
"This segment, where biscuit packs are priced at Rs 5 and below, has seen growth rates decline sharply in Q1 after we took price hikes of 7-8 per cent recently."
On Tuesday, Parle Products had said it would have to lay off people if sales continued to decline.
While rival Britannia has given no indication of layoffs at its plants, managing director Varun Berry admitted in an investor call last week that he had never seen a slowdown like this before.
"This slowdown has taken the biscuit category growth to 2 per cent in Q1," he said.
Recently, Godrej Group chairman Adi Godrej and Marico chairman Harsh Mariwala had said the focus of the Centre should be on economic revival at a time when the country's central bank had lowered the fiscal 2020 GDP growth rate to 6.9 per cent from 7 per cent estimated earlier.
Adi Godrej and ITC chairman Sanjiv Puri were in Delhi this month to meet Finance Minister Nirmala Sitharaman as part of an outreach programme to tackle the slowdown.
Last month, Nielsen had reduced its CY19 growth forecast for the overall FMCG market to 9-10 per cent from 11-12 per cent estimated earlier, saying rural areas were contributing 57 per cent to the slowdown.
C K Ranganathan, founder and chairman, CavinKare, said, "There is a need for a stimulus package in rural areas.
"The government should also consider merging the 18 per cent and 12 per cent GST tax slabs into a common 15 per cent tax bracket and nudge banks for better transmission of interest rates."
Photograph: Abhishek N Chinnappa/Reuters