Drivezy is helping people share their vehicles. Romita Majumdar reports.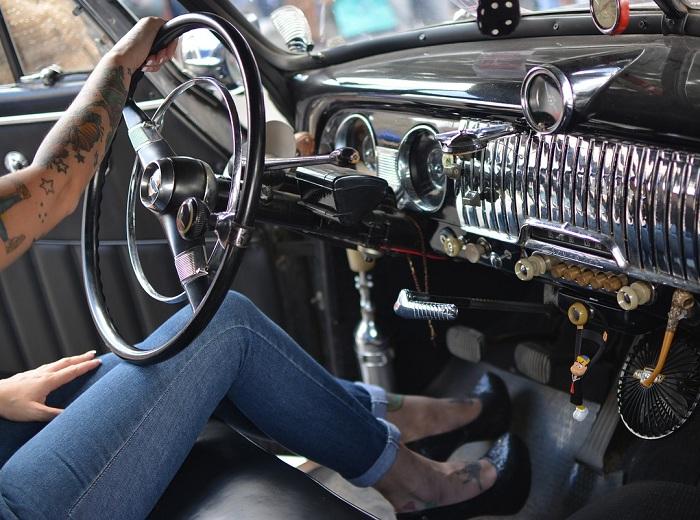 Photograph: Pixabay.com
Shubham Pandey had moved to Bengaluru for a new job and was desperate to explore the city. While buying a car seemed like an excellent option, he wasn't sure if he was ready to bear the burden of equated monthly instalments or EMIs with his current salary.
S Sriram, who lived nearby, had a different problem. He had a six-year-old Tata Indigo, which he barely had time to use due to his son's board exams. If only, they -- Sriram and Pandey -- knew each other, life would have been easier.
Then they discovered Drivezy.
Sriram signed up on Drivezy once he was assured that prospective users have to upload their driving licences and accidental insurance is handled by the aggregator.
Pandey had to sign up for the service, provide his requirements (date and time of requirement) and pick up the car from Sriram for a weekend trip.
A simple feedback system regulated the entire experience for both, including a rating system that helps future searches.
When founders of car aggregator Justride found themselves running short of resources for stocking enough vehicles to meet the rising demand, they thought of opening a supply chain to car owners who weren't using their cars all the time. The micro-lease model soon added bikes to its portfolio and Justride rebranded itself as Drivezy.
Drivezy also helps prospective car buyers access discounts through tie-ups with dealerships and car-finance firms. Although there is no lock-in period for cars bought through Drivezy, owners prefer to list them for rentals, as the income helps out with the EMI.
Drivezy raised $10 million in October, $5 million of which was in equity from international investors such as Das Capital, Axan Ventures and IT-Farm. Another $5 million came from Mahindra Finance, Cholamandalam Finance and Shriram Finance, among others.
"Axan invests in brilliant minds who push it to the limit -- individuals who are in a position to dominate multi-billion markets of tomorrow through innovative business models -- and Drivezy ticks all these boxes. With rapid and dramatic changes in the automotive industry, Drivezy is perfectly positioned to lead the democratisation of car access and ownership in India, where only 7 per cent of the 1.3-billion population own cars. Ashwarya and the Drivezy team have all the right capabilities in place and they continue to impress us as they scale their business," said Anders Svamo Jørgensen, founding partner, Axan Ventures.
Opportunity
"Even after spending so much on their cars these buyers were not using them beyond 10-12 per cent of their lifespan. Wouldn't it be more economical if they could lease out a car as and when required for use. In turn, car owners could actually earn by leasing their cars when not in use," said Ashwarya Pratap Singh, co-founder of Drivezy.
The model emerged partly from their own constraints of buying enough cars to meet the demand.
Drivezy earns 25 per cent of the payments as commission. Their target consumer is the aspiring, urban 18- to 35-year-old who wants to travel, but does not want to burden himself with heavy EMIs, said Singh.
Ashwarya calls their funding process a "fairy tale".
For a bunch of first-time entrepreneurs in a capex-heavy business model, the team had a hard time convincing investors. Finally Delhi-based Niraj Singh and Nikunj Jain helped them with an investment of ₹35 lakh back in 2015. This helped bring eight cars, including three BMWs, to start the first leg of their services in Mumbai. Soon a couple of successful mentorship stints with Google and Y-Combinator helped them sharpen the business model further and access global investors.
Challenges and milestones
The biggest challenge in the initial stages was convincing vehicle owners to let strangers use their vehicles.
Currently, over 1,000 cars are on the road with a little over 10 per cent of them owned by Drivezy. The company claims that owners can earn up to ₹30,000 per month by leasing out their vehicles.
They further increased security by fitting the vehicles with IoT trackers and having a robust feedback mechanism in place for rating cars, users and solving grievances. While pricing is decided by an algorithm taking into account vehicle model and duration of use, it is flexible depending on the market.
In Goa, for example, vehicle owners have complete autonomy on the pricing.
With each car taking around two months to mature into the system, the organisation lets owners and users alike settle into the system for comfort.
While around 5,000 cars will put them on the profitability chart, Ashwarya hopes to put at least 25,000 cars on the road by July next year. Part of the current debt fund is going towards mobilising a new fleet in the coming months.
The next major step for Drivezy is their unique proposition for Initial Coin Offering (ICO), wherein investors can invest through cryptocurrencies. The ICO will progress in three phases.
The first private offering worth $5 million, which starts in November, will fund over 1,300 vehicles across the country.
In January, a second round of ICO worth $15 million will fund more vehicles.
And finally, the ICO will go public in April with a $100 million offering and will be used to develop the sharing economy.
Why cryptocurrency?
"The entire mobility sector has been under the cloud lately. So, we need to have an alternative source of investment in place, independent of the banking system. We wanted to open it to the global market," said Singh.
They see it as an opportunity for people from across the world investing in Indian assets.
Drivezy aims to have 2 million cars in the next six years and generate up to 1 million jobs from them.