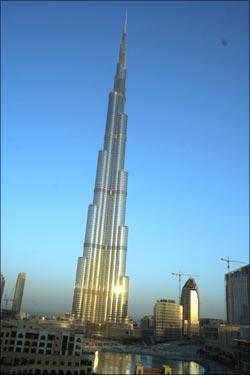 For 30 years, the Toyota building was a landmark on Sheikh Zayed Road in Dubai. From the rooftop of the 15-floor 'Toyota Tower' all one could see around were barren patches of land.
Then five years ago, the Dubai landscape started changing. Earthmovers crawled alongside massive cranes and trailer trucks loaded with steel and concrete. The Dubai story began to unfold, rapidly.
The Toyota Tower has now all been forgotten and instead there are buildings competing against each other in terms of design, height and expense incurred. Burj Dubai was the crown jewel. Then came the storm and the bubble burst.
The global economic meltdown hit Dubai where it hurt the most. Its property sector suffered a sharp slowdown as prices fell and developers cancelled or delayed projects.
Media reports indicated at a drop in property rates between the fourth quarter of 2008 and the first quarter of 2009 to the tune of 42 per cent.
Financial magazine BusinessWeek, in a report in October, noted that 'Dubai Inc -- the collection of state agencies and state-backed companies that had powered the city forward -- now faced a debt crisis as scary as anything that threatened the banks of the United States and Europe'.
'It has to pay back or refinance almost $50 billion in four short years. Dubai's ability to pull that off now depends very much on outside bankers -- and especially on the largesse of Abu Dhabi, the nearby oil-rich emirate that has long looked on Dubai with a mix of admiration, disapproval, and envy.'
Suddenly, the pace of work across Dubai faltered. 'To Let'signs were plastered across the Emirate as property rates tumbled.
Then, in June, Standard and Poor's issued a note downgrading four banks in Dubai. In the note, S&P's said: 'The risks to Dubai's economy have, in our view, increased as the real estate sector has entered a sharp correction period. We expect the impact on Dubai's overall economy to be significant, as construction and real estate account for almost 50 per cent of Dubai's GDP. The economic slowdown, stock market decline, and dropping real estate prices are raising significant hurdles for these Dubai-based banks.'
'Looking forward, we expect these factors to significantly slow business growth and lead to a deterioration in asset quality and profitability,' the note added.
Labour cuts and overlays in project costs multiplied as the crisis worsened. Investors stayed off and crisis ballooned to the extent that even government-linked companies were being downgraded (by Moody's Investors Services).
"I am a labour supplier. My bills have not yet been paid. How am I supposed to work out my costs? Don't go by the glitter you see around. Work on most projects has been hit. Only major companies like Emaar are holding on. But the scenario may change for them too," says Indian-born contractor Imtiaz (name changed on request), when asked by rediff.com about the current scenario.
The government does not give data on the gross debt of the public sector in Dubai, a former real estate and financial boomtown, but most estimates put the debt at between $80 billion and $100 billion, Moody's said in a report.
According to Sheikh Mohammed bin Rashid Al Maktoum, UAE Prime Minister and Vice-President, and Ruler of Dubai, took the necessary measures to deal with the consequences of a shrinking global economy and market downturn.
'The global financial crisis, despite its temporary effects, will not dissuade Dubai from its ambition of development; it will not topple Dubai from its leading position; it will not distance Dubai away from playing an integral part in the global economy; and it will not break the determination of our people to continue the process of development,' he said at an investment conference on November 9.
He expressed confidence that the worst was over and that the darkest clouds of the economic crisis had passed. The impact of the speech was visible days later as property rates showed signs of recovery (they were up 7 per cent).
Yet, the crisis is far away from blowing over. Will Dubai resurrect itself? Will all that gold glitter again? Will the Burj Tower take Dubai to new heights?
Guess, we will have to, in Sheikh Maktoum's words, 'shut up' and wait.