Noel Tata likes to relax at his Alibaug beach home on weekends, but he is equally passionate about driving on the Mumbai-Pune Expressway at a speed of over 100 kilometres per hour.
Illustration: Dominic Xavier/Rediff.com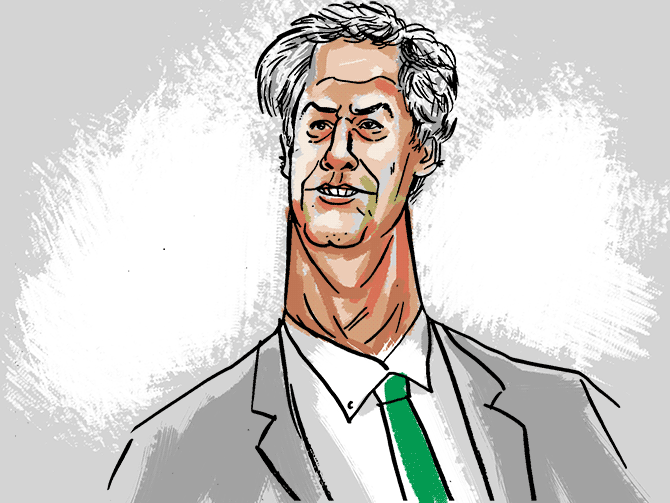 Noel Naval Tata, 62, who is to join the Tata Trusts as a trustee, has contrasting traits to his personality.
He likes to relax at his Alibaug beach home on weekends, but he is equally passionate about driving on the Mumbai-Pune Expressway at a speed of over 100 kilometres per hour.
Like his personal preferences, Noel, the half-brother of Ratan Tata and brother-in-law of former Tata Sons chairman Cyrus Mistry, took contrarian bets in Trent, the group's retail venture, which he has headed all these years.
When Mukesh Ambani's Reliance, Aditya Birla and others aggressively expanded during 2007-2012, Trent was cautious about expansion in an uncertain environment.
Trent chose profitability over scale and Noel ensured that each store was profitable before opening next, say people close to him.
Trent's Star Bazaar first opened a store in 2004, and he took almost four years to open the next store.
Cut to 2017-18 when the Birlas and Rahejas were selling their loss-making retail ventures and most others scaled down the expansion, Trent has been expanding its department store chain, Westside, and Star branded grocery stores like never before.
It took 10 years to open 40 Westside stores; now, it proposes to open 40 Westside stores and similar number of Star stores in FY19.
When most chains struggled to remain profitable, Trent was among the few retailers that was consistently profitable.
It posted a net profit of Rs 87 crore on sales of Rs 2,347 crore in FY18, while competitor Future group's key listed companies reported a net profit of Rs 104 crore on sales of Rs 33,363 crore, and Reliance Retail made Rs 1,243 crore profit on sales of Rs 51,456 crore in the same year.
Trent sales grew 12.6 per cent, profits grew 10 per cent and market cap grew 27.4 per cent on a compounded annual growth basis.
Retail industry veterans also recall how Trent marched past Future and Bharti group in sealing a deal with the UK's Tesco, and Tata was instrumental in signing the deal with global chain Zara.
"Noel Tata understands the psyche of Indian consumers well and has created a value for shareholders.
"By virtue of that, he should be on the board of Tata Sons," a former Trent executive says.
The executive adds that it was Tata's idea to have majority of Westside's merchandise as private labels to drive margins and synergies between different formats.
About 80 per cent of the merchandise sold at Westside comprises private labels, which carry margins of over 40 per cent in categories such as apparel. In comparison, Shoppers' Stop and Lifestyle have about 20 per cent sales coming from private labels.
Trent's focus on developing synergies between Westside, its flagship store, and Star Bazaar, its hypermarket, has also helped rationalise costs.
"Star's apparel division is supported by Westside and Westside's gourmet division is supported by Star," the executive added.
Another firm, Tata International, the export arm of the group, which Noel has headed is also growing fast.
Its sales grew six times in the past five years.
"Tata International is focusing a lot on exporting to the US and Latin America after Noel joined the firm," said the executive.
People close to him also say that his media-shy nature will help him when he takes on the bigger role at Tata Trusts.