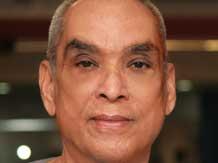 Will you still need me, will you still feed me, when I'm 64?" sang the Beatles when they burst into the international music scene.
I was in my late teens when I first heard this beautiful refrain.
To me, like for all teenagers, asking your girlfriend whether she would care for you at 64 appeared tantamount to asking her whether she would care for you forever; 64 seemed so impossibly far away.
Then, I woke up one day last year and realised that I had just crossed that milepost.
I quickly turned to Salman Rushdie for answers to the questions that came to my mind; after all, he had made my age cohort famous worldwide by casting Saleem Sinai, the protagonist of his novel Midnight's Children, as one of us.
Saleem Sinai was born at the stroke of midnight on August 15, 1947. His life, like that of the rest of us born in that period, is shaped by the tumultuous events in Indian history.
We were entering high school when India went to war with China; entering our teens at the time of the war with Pakistan; in our early 20s when Indira Gandhi declared Emergency and embarked on forced sterilisation, and when it looked like the democratic status of India that we had all been taught in our school days to believe in had come to an end.
Saleem Sinai, in Mr Rushdie's novel, dies on his 31st birthday - and it was just 1978. The rest of us Midnight's Children lived on to see Indira Gandhi defeated in a democratic election and spring back again to power two years later.
Why, I asked myself, am I glancing through Mr Rushdie's novel, yet one more time? Was I trying to find meaning in there for all the years of my life that had run a course parallel to Saleem Sinai's?
Or was I the classic stereotype of a man in his mid-60s that Erik Erikson, the German-American psychoanalyst, wrote about when he said that the mid-60s was the time when a person looked back at his life and asked, "Was it OK to have been me?"
Erikson wrote that this was a period of life when we reflected on all we had achieved in our life. If we conclude that we have achieved all that we set out to do, we develop a sense of integrity.
If we conclude that in our life till now these goals have eluded us, we develop despair, which could lead to a sense of depression and hopelessness.
Erikson saw life as having eight stages. The first stage is from birth to the age of one, during which if we receive maternal love and care, we develop a sense of trust; if that maternal care is withheld, we go through life seeing the world as unpredictable and inconsistent.
The second stage, from the age of one to four, is when we face the challenge of toilet training.
Success here results in a sense of autonomy; lack of success leads to a lifelong sense of shame.
The stage when we are between three and six is the preschool period, when the challenge is to take initiative, for example, to dress oneself.
Success leads to a sense of being able to do things on one's own; failure leads to a lack of confidence in one's own judgement.
The age of six to 11 is when a sense of personal competence is developed vis-à-vis others in one's age group. The adolescent years, 12 to 18, pose the questions: "Who am I? Where am I going in life?"
The years between 18 and 35 are the time for dating, marriage, family and friendships. Successfully forming loving relationships with other people in this stage leads one to experience intimacy; failure to achieve lasting relationships in this stage leaves one feeling isolated and alone.
During 35-64, we are either making progress in our career or unsure whether what we are doing is what we want to do for the rest of our working lives.
Successful resolution leaves us with a sense of comfort with how our lives are progressing; failure leads to a sense of regret.
And then we are in our mid-60s and a time of reckoning with one's life - if one believes in Erikson.

On the other hand, the mid-60s is also the stage for some to achieve their greatest success.
When Winston Churchill stood up in the House of Commons on June 5, 1940, as Nazi Germany was readying itself to invade England, and declared, "We shall fight on the beaches, we shall fight on the landing grounds, we shall fight in the fields and in the streets, we shall fight in the hills; we shall never surrender", he was 67.
When Mahatma Gandhi launched that final push for India's independence, the Quit India Movement in August 1942, he was 73.
More recently, Narendra Modi, the man India has chosen by an overwhelming majority as its new leader, will be turning 64 but a few months from now.
(Ajit Balakrishnan, the founder and CEO of rediff.com, is the author of The Wave Rider: A Chronicle of the Information Age.
ajitb@rediffmail.com)