Bharti Airtel on Thursday said it has acquired 49 per cent stake in Qualcomm's broadband wireless access (BWA) business in India for USD 165 million (about Rs 922 crore).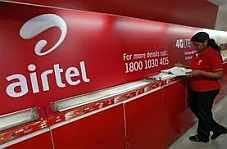 Under the agreement, Bharti Airtel has made an initial investment of about USD 165 million to acquire 49 per cent interest in Qualcomm Asia Pacific's India entities that hold BWA licenses in Delhi, Mumbai, Haryana and Kerala, Bharti Airtel said in a statement.

Qualcomm had won spectrum for high-speed data services in the four circles through auction in June, 2010, and paid Rs 4,912.54 crore (about USD 1 billion) for the same.

The present deal has been made partly by way of acquisition of 26 per cent equity interest held by Global Holding Corporation and Tulip Telecom and
the balance by way of subscription of fresh equity in those entities, the statement said.
"The agreement contemplates that once commercial operations are launched, subject to certain terms and conditions, Bharti would assume complete ownership and financial responsibility for the BWA entities by the end of 2014," the statement said.
Bharti Airtel already has BWA licenses in four circles -- Punjab, Maharashtra, Kolkata and Karnataka and services have already been launched in the latter two.
"This partnership will combine the strength of Bharti's national telecom footprint and Qualcomm's technological leadership in the LTE TDD space. With a broadband ready network across India, Bharti is well positioned to lead the next phase of Indian's telecom revolution," Bharti Airtel Chairman and Managing Director Sunil Bharti Mittal said.