Aviation turbine fuel accounts for 35-40 per cent of the total operating cost of an Indian airline.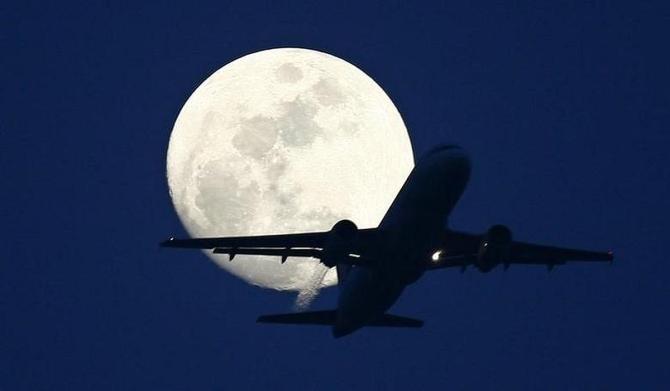 The move to open up air space, which was earlier reserved for the Indian Air Force (IAF), to civilian air traffic has shortened several domestic routes and reduced the fuel cost for carriers.
With this, government estimates suggest a saving of more than Rs 1,000 crore in jet fuel expenses for airlines during the current financial year.
Opening up of the airspace available with armed forces was among the post-Covid relief measures announced by Finance Minister Nirmala Sitharaman for the stressed aviation sector awaiting a stimulus package.
Aviation turbine fuel accounts for 35-40 per cent of the total operating cost of an Indian airline.
Due to high taxes, it's around 40 per cent more expensive than in other countries.
The recent step is also expected to help cut down carbon emission in sync with the policy of the International Civil Aviation Organization (ICAO) to control global warming.
While the idea of a rational usage of airspace was proposed in 2014, airline executives said the actual implementation was undertaken in May.
Prime Minister Narendra Modi held a meeting with civil aviation ministry officials and brass of the IAF in May following which it was decided that the Indian airspace should be more effectively used, according to sources in the know.
Due to various restrictions, only about 58 per cent of the Indian airspace was being utilised, an official of the Airports Authority of India (AAI) said.
"The idea had remained on paper, as armed forces were not willing to open up airspace.
"Due to greater coordination with the civil aviation ministry now, there has been an actual result on ground," said the head of operations of a private airline.
The government is now doing a real time update of the airspace on whether the corridors are being used by the IAF, he pointed out.
"Due to this, many routes have become shorter."
For instance, in the Mumbai-Srinagar sector, flight time has reduced by around 15 minutes after IAF opened up many airspaces of Punjab.
This, for an Airbus A320neo, which is the most commonly used aircraft in India, implies a saving of almost 450 kg of fuel.
The modern A320neo consumes around 30 kg of jet fuel for every minute of flying.
For older aircraft like the Boeing 737, which SpiceJet operates, jet fuel usage can increase by up to 10 kg for every minute.
"Punjab, which shares its border with Pakistan, had multiple forward air force bases due to which airspace over Ambala, Bhatinda, Chandigarh flying club was not available for civilian aircraft.
"Now, whenever military is not flying sorties, airlines can use that particular airspace.
"This, according to a calculation, has led to a saving of almost Rs 77,000 per flight in that sector," said a flight dispatcher.
Flight deispatch is involved in planning flight paths, taking into account aircraft performance and loading and weather conditions.
An airspace management cell, a joint committee set up by AAI that has air navigation and military officials responsible for day-to-day allocation of airspace depending on use by the military, has been set up.
An Air India pilot cited the example of Maharashtra's Ozar airspace.
The restriction, in the vicinity of the IAF station located there, increased the travel time on Delhi-Pune and Nagpur-Pune routes.
"We had to fly towards Mumbai and then take a right angle to Pune.
"Nowadays, I often find Ozar airspace available in my routing, which allows me to take a more horizontal route, cutting travel time by almost 10 minutes."
An AAI official said the policy could be implemented in international sectors as well.
"The same idea can be implemented, for example on Delhi-Kabul route, cutting down the flight time by close to 10 minutes," he said.
Photograph: B Mathur/Reuters