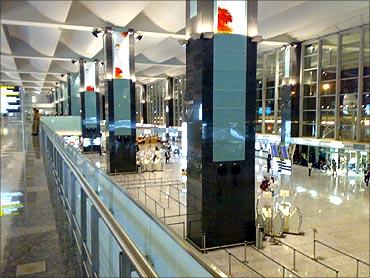 The National Civil Aviation Policy will implement a hybrid till for fixing charges at airports built under public-private partnership model, overruling suggestions from airlines and the Airport Economic Regulatory Authority, the body meant to fix tariffs across airports.
A hybrid till model is a combination of the existing single till model, under which all airport activities -- including aeronautical and commercial -- are taken into consideration while determining airport charges, and the dual till model, under which only aeronautical activities are taken into consideration to fix airport charges.
While single till leads to fewer charges for airlines, a dual till increases revenue of airport operators.
A hybrid till would help woo private players to develop more airports in India, while leading to cost escalation for the airlines.
"The government is walking the middle path and will stick to the hybrid till model," said a civil aviation ministry official, on request of anonymity.
There was a serious conflict between airlines and airport developers after the draft policy had proposed a hybrid model with 30 per cent of non-aeronautical revenue to cross-subsidise aeronautical charges.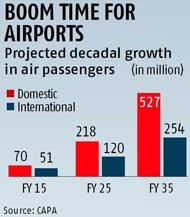 While airlines suggested a single till model will be the ideal way to keep airport charges reasonable, private airport operators opposed it, saying it will hinder private investment in construction and expansion of airport.
"The government needs to recognise that any shift from the established single till approach to any other model will result in sharp increase of passenger and airline charges at airports in India," the Federation of Indian Airlines said in its submission to the ministry.
FIA is the lobby group constituting major airlines like IndiGo, SpiceJet, Jet Airways and GoAir.
"In fact, the hybrid till approach contracted with Delhi and Mumbai airport concessionaire was an ill-advised move and should be re-negotiated," FIA wrote.
According to officials, even the tariff regulator supported the airlines' view of a single till model and said that moving to any other model will lead to higher air fares.
Airport operators win over airlines
WHAT AIRLINES SAID
Continue with single till model, where all airport activities, including aeronautical and commercial, are taken into consideration while determining airport charges
Hybrid model would mean higher airport charges, making air travel more expensive
Without our passengers, there would be no non-aeronautical revenues
India is a price-sensitive market and a hybrid till system would hurt passengers
WHAT AIRPORT OPERATORS SAID
Bring in hybrid till model, so that some aeronautical activities are considered while setting airport charges
Not all non-aeronautical revenue should be used to subsidise airline tariffs
It is the most popular model internationally
On the other hand, private airport operators wanted the double till model.
Major players like GMR and GVK gave representations asking for double till model.
"Airlines need to understand that unlike mature airports abroad, non-aeronautical revenue forms a minuscule part of airport revenue in India. So, where is the chance to cross subsidise?
"Ideally, we would have wanted a double till model, we are happy with a hybrid till model," said Satyan Nair, secretary general, Association of Private Airport Operators.
Image: Bengaluru International Airport. Photograph: Rediff Archives