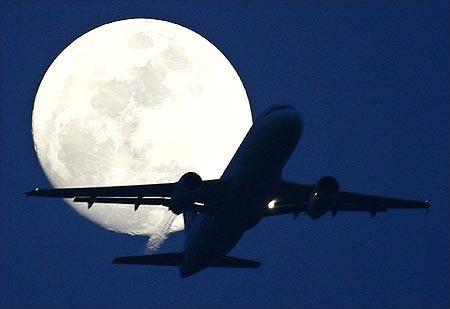 While Cyclone Phailin is expected to disrupt flight movements at Bhubaneswar airport, thunderstorm clouds over the Bay of Bengal near Odisha are leading to flight deviations on the busy Mumbai-Bangkok and Bangkok-Gulf routes.
Usually, planes between these sectors take two routes that pass over Odisha. Now, they have to take a detour and fly over Kolkata.
Thanks to the advance cyclone warning, airlines have changed the flight plans and pilots, too, have taken precautions to steer clear off thunderstorm clouds.
"Weather-related deviations have been taking place since Thursday night. The deviation means higher fuel burn and flight delays," an air traffic controller said.
Meanwhile, Bhubaneswar airport is bracing for an emergency and contingency plans have been drawn up.
The airport handles 38 daily flight movements and so far, no airline has announced cancellations. "We are fully prepared to handle the situation. The main concern is possible power outage due to the cyclone and we have got power backup and generator sets for at least two days," said airport director Sharad Kumar.
The airport has Category-I instrument landing system and planes can land in visibility conditions of over 550 metres. It has been raining in the city, but so far the visibility has not dropped below the level.