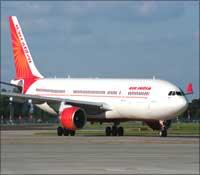 State-owned National Aviation Company India, which runs Air India, will go ahead with its proposed acquisition of 111 aircraft, in spite of the huge losses of Rs 5,000 crore (Rs 50 billion) on its books.
The Committee of Secretaries, formed to look into the restructuring of the airline, today said the national carrier's fleet renewal plans were necessary in view of the intense competition in the sector. There were concerns in some quarters that the airline would defer the purchase of some aircraft in order to save costs.
Air India has already taken delivery of 48 aircraft. The total size of the order placed with Airbus and Boeing is Rs 40,000 crore (Rs 400 billion). The decision will now be put up before the Union Cabinet.
The committee also decided to include replacement of productivity-linked incentive with a cheaper alternative to ensure cost reduction and operational efficiencies.
However, no decision on equity infusion and soft loans was taken in this meeting. Air India chairman & managing director Arvind Jadhav told a news channel that matters like cost restructuring, equity and efficiency were discussed in the meeting. Demands have been made to increase the equity of the airline from its current size of Rs 145 crore (Rs 1.45 billion).
The next meeting of the committee will be held in a month, said a Civil Aviation Ministry official.
The four-member CoS is chaired by Cabinet secretary KM Chandrasekhar and includes aviation secretary MM Nambiar, finance secretary Ashok Chawla and principal secretary to the Prime Minister TKA Nair. It today reviewed the decisions arrived at in the Prime Minister's review of Nacil on June 24.
The Civil Aviation Ministry and SBI Caps made a presentation to the committee regarding cost reduction, operational efficiencies, revenue generation and the need for financial restructuring.
"It was, however, observed that any assistance from the government would have to be matched by aggressive cost reduction and better revenue management by Nacil," a civil aviation ministry release said.
The committee also asked Nacil to come up with a concrete cost-reduction proposal, including replacement of the current PLI with an alternative scheme within the framework of the Department of Public Enterprises guidelines.
The airline's wage bill is Rs 3,000 crore (Rs 30 billion) and PLI accounts for around 45 per cent of it.
The airline's management was also asked to appoint a cost auditor immediately to monitor, review and ensure the cost reduction and operational efficiency exercises.