On the heels of Air India inviting global expressions of interest to lease out seven aircraft, the airline's private counterpart, Jet Airways, has initiated discussions with foreign carriers to lease out two of its wide-body airplanes.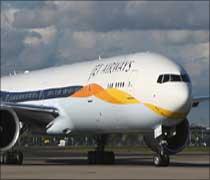 "We are in discussions with Oman Air and Etihad for leasing out two of our Boeing 777 aircraft," airline sources told PTI in Mumbai.
Jet is looking for wet-leasing of the planes for at least six months and a decision is likely to be taken very soon, sources added.
When contacted, a Jet Airways spokesperson confirmed that the airline is in talks with some overseas air carriers to lease out the two aircraft but declined to divulge details.
"We are exploring all options but have not yet taken a final decision," the spokesperson said.
Wet lease is an arrangement in which an airline or a lessor company provides aircraft along with its complete crew, maintenance and insurance to another of its counterpart, which pays for the number of hours the plane is operated.
Oman Air is already operating two of Jet Airways' A-330-200 aircraft since May this year under a wet-lease agreement for six months.
The premier Indian private carrier earns around $2.2 million a month by leasing out a Boeing aircraft and $2 million from its Airbus plane.
In February, Gulf Air had signed an agreement with Jet Airways to take on lease four aircraft on a wet-lease basis for six months with an option for a three-year dry-lease.
Dry-lease is leasing of an aircraft without crew and other obligations like maintenance and insurance. However, later citing "market and other business conditions", Gulf Air dropped its plans to convert wet lease into dry-lease.
In an attempt to raise funds, cash-strapped Air India has invited EoIs to lease out three of its brand new Boeing 777-200 (long range) and four Airbus 310-304 freighters.
The bids for leasing out airplanes will be accepted till October 23. The dry-lease of Airbus aircraft is intended to be for a minimum of 18 months. These Airbus jets were recently converted to freighter by EADS (European Aeronautic Defence and Space Company).
Airlines in the country are increasingly leasing out planes as the industry is faced with overcapacity, leading to lower realisation of revenue on a per seat basis.
The national carrier has accumulated losses of Rs 7,200 crore (Rs 72 billion) till March 31, 2009.