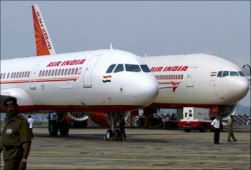 In what would finally kick-start the monetisation of Air India's real estate assets, public sector undertakings IDBI Bank, State Bank of India, Oil and Natural Gas Corporation and Power Finance Corporation have evinced interest in securing the airline's prime plot of land on Baba Kharak Singh Marg in New Delhi.

Proceeds from the asset sale would be used to clear the government-owned airline's debt.

A senior Air India official said, "We have sorted ownership issues over the land on Baba Kharak Singh Marg.

"A lot of PSUs, including IDBI Bank, SBI, ONGC and PFC, have shown interest in the property. We will soon hold e-auctions to monetise the asset."

Early last year, the ailing carrier was in talks with Life Insurance Corporation of India to monetise its four-acre plot on Baba Kharak Singh Marg in a deal valued at about Rs 800 crore (Rs 8 billion).

However, the deal fell through.

This financial year, Air India aims to earn about Rs 1,200 crore through monetisation of assets.

For this, it also plans to auction Sterling Apartments in Mumbai, the Air India Colony in Kolkata, land on Sowripalayam Road in Coimbatore, land in Chennai
and apartments in Hong Kong and Nairobi.
Air India has formed a three-member committee to monitor the auction process.
The committee comprises retired Supreme Court judge D N Dharmadhikari, former chief vigilance commissioner Pratyush Sinha and former comptroller and auditor general V N Kaul.
Apart from land and residential property, Air India also plans to auction 1,000-odd pieces of art.
Monetisation of assets is part of Air India's financial restructuring plan. Earlier, it was planned the monetisation programme would be completed through 10 years -- at Rs 500 crore (Rs 5 billion) a year.
Recently, the airline's board decided to complete the asset sales by March 2016 and utilise the proceeds to service its debt.
Air India Chairman and Managing Director Rohit Nandan has entrusted Joint Managing Director Nasir Ali to complete the asset monetisation programme within a three-year period.
Through monetisation of assets, the airline plans to earn revenue of about Rs 1,200 crore (Rs 12 billion) in 2013-14, Rs 2,000 crore (Rs 20 billion) in 2014-15 and Rs 1,800 crore (Rs 18 billion) in 2015-16.
Air India has debt of Rs 30,000 on its book -- while Rs 25,000 crore (Rs 250 billion) is long-term debt, the remaining is short-term debt and working capital debt.