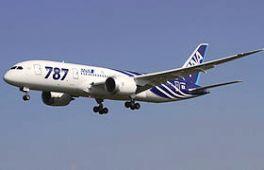 Becoming the first airlines to bring Dreamliner on the Australian soil with its triangular direct flights to Sydney and Melbourne, Air India is now eyeing on direct services from the two cities separately to Delhi.

"We are trying to see how Australia will commercially response to us.

"We feel its an excellent flight with least possible time to take to come to India," AI Chairman Rohit Nandan told reporters.

"We are offering the best product in the world.

"We certainly expect that we will get a massive response from here," he said.

"Our aim is as soon as we commercially stabilise and we have the equipments, we will be flying directly to Sydney and directly to Melbourne all seven days as week," Nandan said.

He said the response so for the bookings have been good and the jets which has a total capacity of 256 seats were flying with at least 200 filled seats.

"Our flights are booked by upto 80 per cent and it is quite a success for the airlines," he said, adding that to start the direct flights separately to the two Australian cities, there were some regulatory issues which needed to be sorted out with the Australian side.

In regards to marketing strategies to tap travellers from Australia, Nandan said that the Airlines has been in touch with the business councils of the two countries.

"We have
been trying to penetrate into agencies, agents and we will be soon appointing a GSA very soon who will have its own network of agents. Besides this we will be reaching out to the Indian community," he said.
On Monday night, Air India hosted a dinner Melbourne for the Indian diaspora and Australian leader and government officials to mark its launch in Victoria.
A gathering of over 300 people attended the function here to welcome the Airlines in Victoria.
Expressing happiness on the new service, Ravi Bhatia, president of Australia India BUsiness Council-Victoria, said "I think its wonderful in the sense that it will benefit the Indian diaspora and bilateral ties in a major way."
"Benefits of shorter time are well known and when you cut down travel time by 40 per cent it promotes travel, tourism and functionality to go and do business," said Bhatia, adding that, it also adds eight tonnes of cargo capability everyday between the two sides.
"For example, the Victorian produce like fruits and vegetable can be flown in fresh into Delhi and distributed," he said.
Echoing similar sentiments, Mitu Bhowmick, director of Mind Blowing FIlms said "it is a welcome move, specially when you have such a large and dynamic Indian population in Melbourne.
Wyndham city Councillor Gautam Gupta said "the Airlines will help as a confidence building measure for the Indian student community here and will indicate that India and Indians are being taken very seriously by the Australian government."