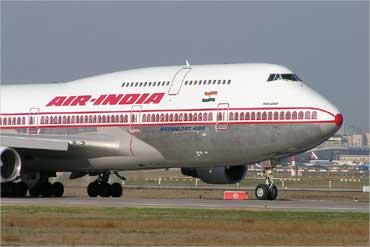 Paving the way for Air India's entry into the largest global airlines' grouping, Star Alliance on Friday unanimously decided to recommence the national carrier's integration process that was suspended in 2011.
"Today we see an Air India which has successfully completed its merger with Indian Airlines and is building up a new fleet that forms the basis for a much improved level of
service. This is why we believe the time is now right to recommence the integration process," Mark Schwab, Star Alliance CEO, said after a board meeting of the 28-member grouping in Vienna.
Air India CMD Rohit Nandan, who is also in the Austrian capital, said, "Today is a historic day for Air India. The decision to recommence the Star Alliance integration process will be beneficial for both sides. We are grateful for the warmth, support and encouragement with which all Alliance members have welcomed the decision."
The Alliance had put the proposal for Air India's entry into the grouping on hold since July 2011 on the grounds that the airline had not fulfilled major conditions to join it, a charge the Indian carrier had then denied.
Air India was originally accepted as a future member of Star Alliance in December 2007, but the integration process was halted in July 2011.
The suspension was a joint decision to allow Air India to focus on completing its merger "without the distraction of the work required for full integration into the Star Alliance network," the alliance said in a statement from Vienna.
At one stage, Jet Airways was also vying with Air India to join the same grouping. Schwab said, "Star Alliance has long held the opinion that India is such an important aviation market that it should be fully represented in the Alliance.
"However, the level of change in the domestic market in recent years did not make it easy for an airline to become an alliance member. The market in India is now showing signs of stabilisation," the group CEO said.
Once the airline becomes a member, its passengers would enjoy major benefits, including seamless transfers on travel across the world, more frequent flyer mileage points, code-sharing leading to a wider choice of flights and access to over 1,000 lounges at airports worldwide.
The Star Alliance network offers 21,900 daily flights to 1,328 airports in 195 countries. A Star Alliance team is expected to arrive in India next week to oversee the integration process being carried out by Air India, AI officials told PTI from Vienna.
The 28 members of Star Alliance include top airlines like Lufthansa, Singapore Airlines, Air Canada, Air China, Air New Zealand, ANA, South African Airways, Austrian, THAI, Turkish Airlines, United Airlines and US Airways.
The integration process, which is likely to take three months, involves, among other things, integration of an airline's flight network, ticket booking systems, matching of frequent flyer programmes and access to lounges in home countries of the airline.
It also entails seamless travel by a passenger from a foreign destination to a domestic destination, by switching flights and airlines which are members of the alliance. The Star Alliance decision to resume the integration process for Air India comes at a time when the airline was improving its market share, passenger revenue, load factor and on-time performance, as has been reflected in its performance in the second quarter of the current financial year.
While Air India's passenger revenue was up 22 per cent in July-September, its market share grew 1.3 points from 18.5 per cent. Its average network occupancy factor also went up by 3.8 percentage points at 72.5 per cent compared to 68.7 last year.
While its domestic occupancy factor was higher by 8.7 points, it was higher by 1.6 points on the international sector. The airline's on-time performance also showed an improvement by touching 83 per cent.
© Copyright 2022 PTI. All rights reserved. Republication or redistribution of PTI content, including by framing or similar means, is expressly prohibited without the prior written consent.