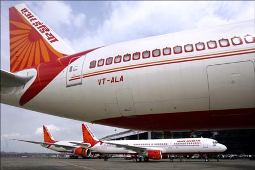 Government-owned Air India is looking at starting courier services for central and state governments and big corporate houses by the second half of this financial year, in a bid to improve its financial performance and boost its ancillary revenues.

"We have the widest reach, both in the domestic and international markets.

"We fly to as many as 65 destinations within the country.

"We are now looking at optimally utilising our surplus capacity and manpower to commence courier services for central and state governments, public sector enterprises and big corporate houses.

"We will create a separate division within Air India to manage the venture," said a senior official.

Air India's earnings of one-two per cent of total air cargo business of Rs 900 crore (Rs 9 billion) per annum is almost negligible currently.

The new business, along with the state-owned carrier's plans to generate revenues through advertisements on its in-flight entertainment systems, boarding passes and airport lounges, are expected to bring in as much as Rs 400-500 crore on a yearly basis.

These initiatives are in addition to the airline's plan to monetise its frequent flier base by offering registered members
the facility to redeem miles earned across consumer interfaces at hotels, restaurants, shopping malls and hospitals.
The official added, "Globally, airlines generate almost 10-12 per cent of their revenues through commissions earned from tie-ups with hotels, restaurants and shopping malls, where registered fliers can redeem miles earned or avail of discounts.
"With over one million frequent fliers, which we aim to double this fiscal, we can make at least six-eight per cent of revenues by monetising our Frequent Flyer Programme base."
Industry sources say American airlines make $1 billion per annum on an average from commissions paid on facilities availed of by frequent fliers.
Once the plans to monetise the FFP base attain scale, Air India can expect to generate around Rs 1,000 crore (Rs 10 billion) every year from the programme.
The asset monetisation plans through sale of land, properties and paintings are projected to bring in around Rs 1,200 crore (Rs 12 billion) in the current financial year, Rs 2,000 crore (Rs 20 billion) in FY15 and Rs 1,800 crore (Rs 18 billion) in FY16.
The new initiatives are part of Air India's plans of increasing efficiency and becoming Ebitda (earnings before interest, taxes, depreciation and amortisation) positive of Rs 1,000-1,500 crore (Rs 10-15 billion) in FY14.