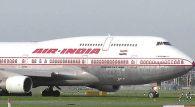 The country's apex consumer forum has ordered Air India to pay Rs 75,000 as damages to a father-daughter duo for not informing them about extra charges for
preponing their journey and asking them to pay $175 more minutes before their flight back home from the US.
The National Consumer Disputes Redressal Commission gave its order on an appeal by Air India against the October 2006 order of the Andhra Pradesh State Commission on two separate complaints filed by Hyderabad-resident Dharmavaram Kottam and his daughter for not informing them about the extra charges.
"Not informing the complainant about the payable charge at the first instance and the manner of collecting it before departure amount to deficiency in service," an NCDRC bench of V R Kingaonkar and Vinay Kumar said.
Dharmavaram and his daughter had preponed their journey from the US to India from June 1, 2003 to May 29, 2003.
On the date of the journey, minutes before boarding the plane, they were summoned to the IA counter at the airport lounge and asked to pay $175 extra before taking the flight for preponing their journey.
In their complaints to the Andhra Pradesh State Consumer Disputes Redressal Commission, they had said the last-minute demand came as a rude shock and they were forced to pay the charges from credit card to be allowed to take the flight.
They had moved the state consumer commission seeking a compensation of $200,000 each for the "unfair treatment".
The state forum had awarded Rs 30,000 to Dharmavaram and Rs 45,000 to his daughter.
Air India, in its appeal before the NCDRC, contended that demanding unpaid amount from the passengers could not be treated as causing inconvenience and that the same was attributable to the travel agent for its failure in collecting the charge while issuing tickets.
Rejecting the contention, NCDRC said: "The (travel) agent had, as is quite apparent from the transaction, implicit authority to collect the entire cost of the ticket on behalf of the principal, i.e. Air India.
"The arrangement between the two clearly was of collection of the booking amount by the agent and passing its credit to the principal.
"In the same manner, any other charge, collectible on account of these bookings, would also pass from agent to the principal. It is therefore, not open to Air India to claim that they are not responsible for the lapse of the agent."
It also agreed with the state commission's view that the non-collection by the agent should have been made good at the check-in counter.
If you have an opinion to express and wish to write an article on price rise, corruption, economy, technology, unemployment, business, entrepreneurship, leadership, stock market, et cetera, please mail them to us at bizdesk2003@rediffmail.com.
And, yes, kindly keep your articles between 800 and 1,000 words.
Happy writing!