The board of Air India on Tuesday approved the sale of five Boeing 777-200 LRs to Abu Dhabi-based Etihad Airways. According to top sources, the deal has been concluded for around $350 million (Rs 2,100 crore).

A senior government official said, "The delivery to Etihad is scheduled to commence from January 2014. A note would now be prepared and sent to the cabinet for approval." Foreign direct investment proposals of up to Rs 1,200 crore (Rs 12 billion) are cleared by the Foreign Investment Promotion Board; those above go to Cabinet Committee on Economic Affairs.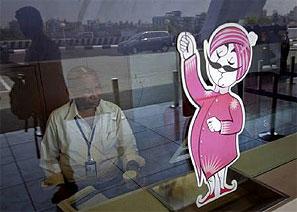 AI would utilise the sale proceeds to settle dues against the aircraft and the balance would be retained. "We were paying $5 mn as loan principal and interest on these planes each month. So, there will be a saving of about $60 mn a year after the planes are sold," said a senior official.

The sale would help improve its financial performance, as these planes have a high operating cost and the airline has been struggling to achieve break-even on routes where it has deployed the aircraft.
AI flies flies 20 Boeing 777 200-LRs and Boeing 777 300-ERs to the US, Europe, China, Japan, Korea and Saudi Arabia. The eight 200-LRs are flown to Newark, Seoul, Hong Kong, Tokyo and Osaka.

Operational profitability has been a concern. For instance, the Delhi-Japan route is being serviced by a Boeing 777 and requires AI to have a 95 per cent passenger load factor (PLF) or occupancy to make the route profitable. "Deploying a (Boeing 787) Dreamliner on the Delhi-Osaka route would allow AI to break even even if load factor is as low as 40 per cent," said a senior official.

The government carrier has plans to replace the Boeing 777s with 787s to Europe and East Asia routes. AI will use the Boeing 777 300-ER to Newark, while Dreamliners will replace the 777 200-LRs to Seoul, Hong Kong, Tokyo and Osaka.

The turnaround plan of AI, in fact, banks largely on the induction of Boeing 787 Dreamliners. These are said to be 20 per cent more fuel-efficient than comparable aircraft. AI would have 14 Boeing 787s by December and had begun full-fledged international operations with the new aircraft from August. It has commenced flights from Delhi to Birmingham and Sydney-Melbourne and will start direct services to Rome and Milan this month, and to Moscow from early next year.

Meantime, Etihad Airways has said it will use the aircraft on a new route between Abu Dhabi and Los Angeles from June 2014.

The Boeing 777-200 LR, of which less than 60 were manufactured, has a design range of 17,370 km, allowing it to connect almost any city in the world from Etihad's hub at Abu Dhabi. Etihad Airways currently flies to New York, Chicago, Washington DC and Toronto in North America, and to Sao Paulo in Brazil. It has said it will add new services to both continents using the new aircraft.