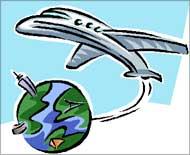 With summer holiday rush at its peak, government servants were on Wednesday permitted to travel by private carriers for a temporary period due to the flight disruptions caused by the Air India strike.
Government employees, who are allowed to travel only by Air India, would be allowed to travel in private carriers on duty or on Leave Travel Concession.
Travel under LTC scheme peak during summer holidays.
"In view of the flight disruptions caused by a strike by a section of employees of Air India, entitled government servants are permitted to fly any other carrier, both on duty and on LTC, until resumption of normal services by Air India or further orders, whichever is earlier," an official statement said.
Special Mumbai-Delhi Rajdhani today
Western Railway said that it will run a special Rajdhani train on Wednesday from Mumbai to Delhi for passengers stranded at the city airport in view of the ongoing strike by a section of Air India employees.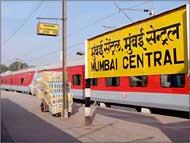 "To reduce inconvenience caused to people, WR will run one special Rajdhani Express train today from Mumbai to Delhi. If required, we will run more such special trains later," Western Railway chief PRO S S Gupta told PTI in Mumbai.
The train will leave from Mumbai Central at 2250 hours and will reach Delhi at 1800 hours, the next day.
"The coaches will give passengers comfort on par with the airline travel. It will have 1A, 2A and 3A accommodation," Gupta added.
A section of employees of Air India, including engineers, went on a flash strike on Tuesday to protest delay in payment of salaries and problems relating to work conditions of cabin crew.
AI management, striking staff agree for talks
Striking a conciliatory tone, agitating Air India unions on Wednesday decided to hold talks with the management over the gag order issue.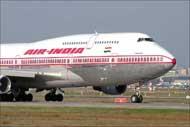 "We have been invited by the management for talks and we are going to attend it. We will also meet the chief labour commissioner and place our demands," Air Corporation Employees Union general secretary J B Kadian told PTI in New Delhi.
Over 20,000 employees, including engineers, went on a nationwide flash strike on Tuesday to protest Air India's gag order -- a circular prohibiting union leaders from going public with their demands.
With the striking employees unrelenting on their demand for withdrawal of the gag order and the show cause notices to union leaders, the AI management toughened its stand late threatening to even terminate service of the employees if they did not call off the stir.
Passengers faced a harrowing time on Wednesday as the airline cancelled 76 domestic and international flights across the nation.
On Tuesday, over 50 domestic and international flights were cancelled while several others were delayed by over two hours.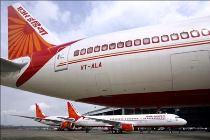 "We have cancelled a total of 76 flights scheduled to be operated on domestic as well as international sectors from Delhi, Mumbai, Kolkata, Chennai and Bangalore on May 26," an airline official said.
The airline has decided to cancel these flights after reviewing the situation of the availability of the executive engineers, who are not part of the employees' unions. No flight could be operated until it is certified by an aircraft engineer.
Since the number of executive engineers are less so Air India decided to cancel these 76 flights, said the official.
AI cancels 76 flights
The national carrier has cancelled 24 of its flights from Delhi, 37 from Mumbai, six from Kolkata, seven from Chennai and two from Bangalore.
The flights that are cancelled from Delhi on Wednesday include: IC 134 to Mumbai via Bhopal-Indore, IC 409 and IC 415 to Patna, IC 411 and IC 811 to Lucknow, IC 413 and IC 813 to Kathmandu, IC 445 to Ludhiana, IC 471 to Mumbai via Jodhpur -Udaipur. AI 480 to Singapore, AI 638 to Amritsar, AI 747 and IC 895 to Dubai, IC 817 and IC 861 to Ahmedabad, IC 821 to Jammu-Srinagar, AI 841 to Abu Dhabi, IC 849 to Pune, AI 853 to Bangkok, IC 864 to Chandigarh, IC 869 to Raipur-Nagpur, IC 885 to Muscut, IC 889 to Guawahati-Imphal and IC 896 to Jaipur.
From Mumbai three flights to Ahmedabad; six to Delhi, four to Chennai, two each to Bangalore, Goa, Hyderabad, Nagpur, Muscut and Cochin, and one each to Bangkok, Dubai, Singapore, Abu Dhabi, Kozikode, Aurangabad, Lucknow, Varanasi, Rajkot, Jamnagar, Jaipur, Raipur, Bhubaneshwar, Udaipur and Jodhpur were also cancelled.
The national carrier has cancelled its six flights from Kolkata to Agartala, Bagdogra, Silchar, Dibrugarh, Imphal and Port Blair, while seven flights from Chennai to Singapore, Kuala Lumpur, Mumbai, Coimbatore, Bhubaneshwar, Bangalore-Cochin, and Bangalore-Trivandrum.
Two flights from Bangalore to Mumbai and Male in Maldives were also cancelled, the official said. On Tuesday, over 20,000 employees went on a flash strike to protest Air India's gag order that hit flight operations.
Air India has announced full refund to those whose flights were cancelled and made arrangements for hotel accommodation and local transport to those in transit.
© Copyright 2022 PTI. All rights reserved. Republication or redistribution of PTI content, including by framing or similar means, is expressly prohibited without the prior written consent.