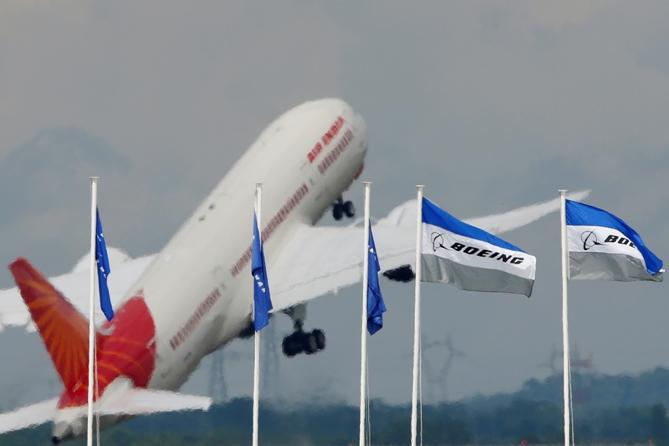 'I like Air India but I can't commit taxpayers' money for eternity.'
Air India's 'books are so bad' that nobody will buy it even if the government wanted to sell off the national carrier, Civil Aviation Minister Ashok Gajapathi Raju said on Thursday.
Ruling out disinvestment in the carrier that has a debt of some Rs 50,000 crore (Rs 500 billion), Raju at the same time made it plain that the taxpayers' money cannot be committed 'for eternity'.
"Its (Air India) books are so bad. I don't think that even if it is offered, anybody would come for it," he said.
Grappling with mounting debts and tough business conditions, Air India has been in the red since the merger of then Air India and Indian Airlines in 2007 and is staying afloat on a Rs 30,000-crore (Rs 300-billion) bailout package extended by the erstwhile United Progressive Alliance regime.
Asserting that unlike others, he would not like to get into 'Air India bashing', the minister also said that the carrier needs to function in a more cohesive manner to deliver on its turnaround goals.
"It is a nice airline. I like Air India but I can't commit taxpayers' money for eternity. That is not done," Raju told PTI in an interview.
Buoyed by improving financial situation and high growth potential of the domestic aviation market, Air India is putting in plans to expand its fleet by another 100 aircraft in the next four years.
"My feeling is that the cohesiveness of the team has to increase and where they have worked as a team, they have delivered, and where they have not worked as a team, they have pulled in different sides.
"Nobody can put the clock back. The quicker they realise it the better," he noted.
While there has been no official announcement so far, the airline has managed to eke out an operational profit of around Rs 6-8 crore (Rs 60-80 million) in the previous financial year.
"The fact that they have not made an operating loss speaks volumes," Raju said.
Confident that the national airline has the capability of flying high, the Minister said it is working in that direction and in a veiled reference to criticisms, emphasised that he does not like the idea of Air India 'bashing".
As per latest DGCA data, Air India ferried a total of 11.98 lakh (1.19 million) passengers on its domestic network in April, cornering a market share of 15.1 per cent during this period.
"Let's wish and hope that it (Air India) flies high. I am not against the public sector and I am not for only public sector at all costs.
"Public sector has a role and private sector has a role. Let them work in competition," Raju said.
Civil Aviation Secretary R N Choubey said, "Air India plans to expand its fleet from 130 aircraft to 230 aircraft in the next four years. . . . The airline now expects to see net profit in 2018-19 financial year, two years ahead of the timeline fixed in the turnaround plan."
The carrier is surviving on a Rs 30,000-crore (Rs 300-billion) bailout package, spread across ten years, announced by the UPA government in 2012 and the funds are being provided subject to the airline achieving certain operational parameters. So far, more than Rs 22,000 crore (Rs 220 billion) has been provided under the turnaround plan.
This equity infusion includes the financial support towards repayment of principal as well as interest on government-guaranteed loans taken for aircraft acquisition and the annual interest outgo against these loans itself stands at a whopping Rs 4,000 crore (Rs 40 billion).
Government has allocated Rs 1,713 crore (Rs 17.13 billion) to the airline as part of this bailout package for the current fiscal against the carrier's request for Rs 3,901.49 crore (Rs 39.01 billion).
Apart from an estimated operational profit of Rs 6-8 crore (Rs 60-80 million), the government-run carrier's total loss is projected to have gone down by almost 60 per cent to Rs 2,636 crore (Rs 26.36 billion) in the fiscal ended March 2016.
In 2014-15, it had a loss of Rs 5,859.91 crore (Rs 58.59 billion).
Image: An Air India Boeing 787 Dreamliner prepares for a flying display. Photograph: Pascal Rossignol/Reuters
© Copyright 2022 PTI. All rights reserved. Republication or redistribution of PTI content, including by framing or similar means, is expressly prohibited without the prior written consent.