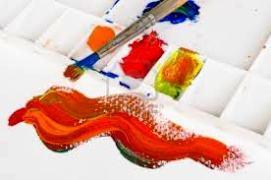 Eclectic artworks by Indian masters M F Husain, S H Raza, K H Ara and B Prabha among others, owned by Air India and housed in its various offices across the country, have been brought together for display for the very first time as part of a brand building exercise.

Select works from the airline's huge art collection will be showcased at the National Gallery of Modern Art in the exhibition titled 'Air India salutes Indian Masters', which begins in New Delhi on Saturday and runs till September 1.

"A total of 67 pieces from Air India's collection is being exhibited at the Gallery. The artworks have been sourced from different offices located all across the country.

"Prominent artists like Husain, Ara, Raza, Prabha, are all featured," Air India Commercial Director Deepak Brara told PTI.

This is the first time an exhibition of the artworks, some of them which are worth several lakhs, and some even going into the crore bracket, is being held.

The entire show comprising oil paintings, watercolours, works on glass and wood, a few miniatures as well as a few sculptures have been curated by NGMA Director Rajeev Lochan.

"The purpose of Air India's exhibition is purely a brand building
exercise.
"The airline has had a large collection of art for a long time, which it would like to share it with art lovers," Brara said.
The official said total value of the artworks, some of which are displayed in the offices of senior managers in Delhi and Mumbai, is not available because there has been no formal evaluation process.
"Some of our artworks are located overseas sent to different parts of the world and we are now in the process of getting them back.
"Since they were sent out 30 to 40 years ago tracing records has been difficult.
"We are in talks with the Customs department to waive off duties to bring them back," Brara said.
While a bulk of the airline's collection is displayed in Mumbai, some of the artworks are also in Air India offices in New York, Washington, Perth, Rome, Tokyo, Paris, and London.
The airline which struggled with its finances and recently received financial support from the government, however, has no plans to use the artworks to raise funds.
"We have had our problems, for many years we struggled with our finances but we are doing okay now and have absolutely no plans to sell the artworks.
"We will continue to be patrons of good art," Brara said.
The exhibition, is currently just planned for show only in New Delhi.