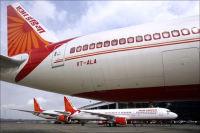 Air India has finalised a restructuring plan under which it will float a Rs. 2,000 crore (Rs. 20 billion) bond issue through Air India Charters Ltd, a profitable subsidiary which runs low-cost operations under the brand name of Air India Express.
The plan includes expanding the number of flights of AI Express from  204 a week to over 250 a week with a new thrust on West Asia.
AI has accumulated losses of over Rs. 15,000 crore (Rs. 150 billion). It lost Rs. 2,226 crore (Rs. 22.26 billion) in 2007-08, Rs. 7,189 crore (Rs. 71.89 billion) in 2008-09, and Rs. 5,551 crore (Rs. 55.51 billion) in 2009-10.
It has an interest payment outgo of Rs. 1,800 crore (Rs. 180 billion) annually, on a debt of Rs. 40,000 crore (Rs. 400 billion) (working capital debt of Rs. 21,000 crore (Rs. 210 billion) and the rest being long-term), on an equity base of Rs. 2,145 crore (Rs. 21.45 billion).
Operating with 21 Boeing aircraft, AI Express connects 14 international destinations in Southeast Asia and West Asia. All its flights have an occupancy over 80 per cent, earning it an annual revenue of around Rs. 3,000 crore (Rs. 30 billion). This is huge, considering AI with over 130 aircraft earns only about Rs. 8,000 crore (Rs. 80 billion).
The recovery plan includes recovering Rs. 803 crore (Rs. 8.03 billion) in dues from the government for usage of aircraft for VIP travel and emergencies. The company will also recover another Rs. 152 crore (Rs. 1.52 billion) due from private airlines such as Kingfisher for ground handling operations and support.
Top airline executives say these moves would enable AI to raise Rs. 3,000 crore (Rs. 30 billion), apart from the Rs. 1,200 crore (Rs. 120 billion) grant given by the government through the budget. The carrier had demanded Rs. 2,000 crore (Rs. 200 billion) for 2011-12.
Vayalar Ravi, the new civil aviation minister, has already assured the management of pushing both government and private airlines to settle all dues by June.
Under the new plan, profitable routes from where AI had reduced or withdrawn its operations would be increased. For instance, clearance has been given for a daily flight between Delhi and Melbourne.
"Earlier, AI had about 12 to 13 daily flights between Delhi and Mumbai but this was reduced to only six, while private airlines increased their numbers. The plan is to increase this number to nine or more," said an official in the civil aviation ministry.
To find a solution to the controversial human resource integration issue, Ravi is planning a four-member committee headed by a retired judge. The other members will be a representative from the department of personnel and training and a legal and labour expert.
The panel will address the disparity between pay of the erstwhile AI and Indian Airlines.
"The move is being made so that the normal running of the carrier does not get impacted and management time is taken in turning around the company rather than on such issues," says an official in the ministry.