The exercise has been scheduled for next month.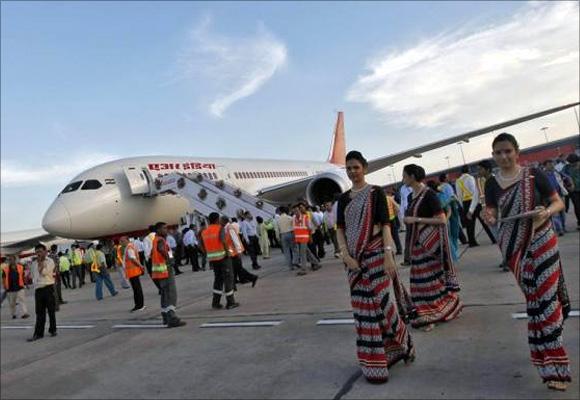 Air India's plan to whittle down the number of recognised trade unions from 15 to two through a secret ballot has hit turbulence with its two pilot bodies deciding to boycott the exercise citing a Bombay High Court order and even warned of seeking contempt action.
The national carrier currently has 15 recognised trade unions representing around 22,000 employees of erstwhile Indian Airlines, besides Air India.
The airline has decided to trim the number of recognised unions to five -- two for Air India and three for subsidiaries -- following the report of an expert panel, which has recommended their downsizing for better coordination between the management and employees' representatives.
Of the two proposed recognised unions in Air India, one would be of the pilots and the other of the rest of the employees.
The exercise has been scheduled for next month.
However, the pilots are up in arms against the management over the move.
"You are hereby directed not to engage in any sort of dialogue with the secret ballot committee on recognition of unions and also not to participate in the secret ballot," a joint statement signed by the general secretaries of the Indian Pilots Guild and Indian Commercial Pilots Association said recently.
While ICPA is the recognised union of the erstwhile Indian Airlines pilots, the IPG, which lost its recognition following a nearly two month-long strike in the airline in May 2012, represents Air India pilots.
The two pilot unions have directed their members to 'strictly' follow the boycott call.
"We shall under the circumstances be at liberty to take such action as may be necessary and legally advised including contempt for violation of the order of honourable Bombay High Court," the IPG said in a separate communication to the airline.
A section of its cabin crew has also questioned the move, citing the same ground.
Air India had earlier also come up with the secret ballot proposal in 2004-05 under Code of Discipline to bring down the number of recognised trade unions and had even issued a notification in this regard.
However, two of its unions -- Air Corporations Employees Union and the Aviation Industry Employees Guild had challenged the process in two separate petitions in the Bombay High Court.
The matter was referred to a full bench of the High court which held that secret ballot process is derogatory to the Code of Discipline and set aside the notification.
Image: Air India crew; Photograph: Reuters