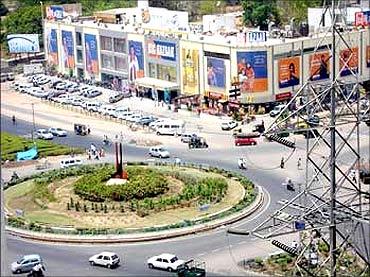 With the launch of a pilot project to alert commuters about the traffic situation, Ahmedabad became the first Indian city to get an Intelligent Traffic System (ITS).
The pilot project was launched here today by Japanese firm Zero Sum Ltd in association with the Ahmedabad Municipal Corporation (AMC) on a 10-km stretch on the 132-feet ring road.
"This pilot project has been funded by the Japan International Co-operation Agency (JICA), which gave $1 million to Zero Sum Ltd to implement this project , said Zero Sum Ltd's President Chikara Kikuchi.
"We never took any money from the AMC, as the pilot project is funded by JICA. With revenue from advertisements running on sign boards, this would be a self-sustainable model," Kikuchi said.
"When Modi toured Japan as Gujarat CM, he met JICA representatives and asked them to come up with such a project in Gujarat. After successful completion of the pilot run in Ahmedabad, we plan to launch such project in other cities of Gujarat, such as Surat, Rajkot and Vadodara," Kikuchi said.
Giving details about the project, Zero Sum Wireless Solutions India Pvt Ltd Director B Mallesh said that four LED-based boards would provide real-time information about the traffic situation to commuters on that route.
"We have installed 14-camera based sensors and four LED-based Variable Message Sign (VMS) boards on regular intervals on that stretch, starting from APMC market till IIM crossroads," Mallesh said.
Based on information gathered by these sensors, these boards would flash information about the traffic situation ahead of the route, to help commuters take decisions, he said.
"The data gathered by sensors will be processed and displayed on these boards in real-time. We will flash Gujarati as well as English language messages," he said.
The pilot project would run until March end, after which, the AMC would decide to initiate intelligent traffic system projects across the city, he said.
© Copyright 2021 PTI. All rights reserved. Republication or redistribution of PTI content, including by framing or similar means, is expressly prohibited without the prior written consent.