Data shows that the current system of decentralised marketing and centralised procurement helps Punjab and Haryana farmers the most, while its efficacy in other states has been poor. Experts and farm leaders say success of the laws rests heavily on implementation.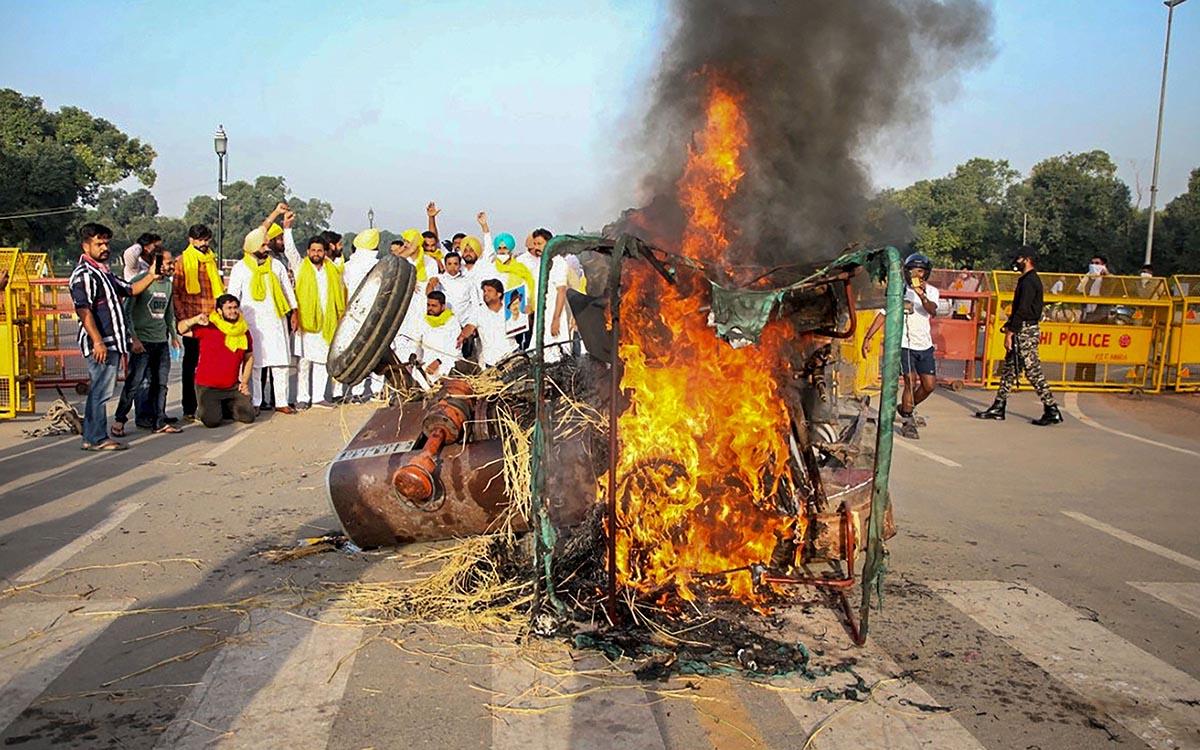 "The Indian farmer needs Marks and Spencer more than Marx and Engels," the late farmer leader from Maharashtra, Sharad Joshi, used to say, in support of liberalising agricultural marketing in India.
Nearly forty years after his clarion call for removing shackles from the hands of farmers, the Union government has passed three laws that create a legal framework for deregulating the farm market to some extent.
Data shows that the current system of decentralised marketing and centralised procurement helps Punjab and Haryana farmers the most, while its efficacy in other states has been poor.
Secondly, marketed surplus ratio in India has improved in the last two decades, but again, the two Green Revolution states emerge as the best gainers.
Thirdly, this has not helped in terms of better remuneration: prices realised in agriculture produce market committees (APMCs or mandis) have largely remained below the minimum support prices (MSP) across states, across time, and in the last marketing season.
But while data points to the same direction as the new laws do, experts and farmer leaders across states have voiced concerns over the fact that not all stakeholders were taken aboard.
"States and farmers will need to live and work within the framework of the new laws.
"The future has now become more challenging and uncertain," Ajay Vir Jakhar, chairman of Bharat Krishak Samaj, said.
Consider the case of paddy procurement by centralised agencies.
In the recent past (three years that ended in 2018-19 marketing season), more than 85 per cent of Punjab and Haryana's paddy produce was procured by the government at MSP.
However, the same proportion for other rice producing states was far less: 18 per cent for Uttar Pradesh and 11 per cent for West Bengal.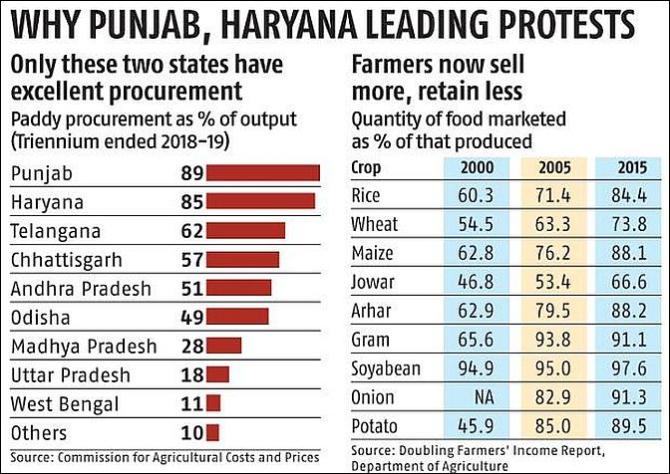 Though this pertains to paddy only, it suggests that most states are losing out on procurement. Further, the procurement situation in all other crops is worse than paddy and wheat.
The Shanta Kumar committee under the first Modi government had recommended shifting grain procurement from northern India to eastern parts of the country to boost farm growth elsewhere.
But even if we leave procurement aside for a moment, and just look at the marketing of food produce, data shows that Indian farmers have increasingly marketed more produce than before, over time.
The marketed surplus ratio - amount sold in the market (local traders, private buyers or mandis) as a share of produce - has risen considerably for most crops (chart 2), according to data maintained by the Commission for Agricultural Costs and Prices (CACP).
However, the distribution of this improvement across states and classes of farmers has been uneven.
A 2012 paper by Vijay Paul Sharma and Harsh Wardhan at Indian Institute of Management - Ahmedabad found that while the marketed surplus ratio for paddy is excellent for the two agitating states, it is as low as 40 per cent for West Bengal.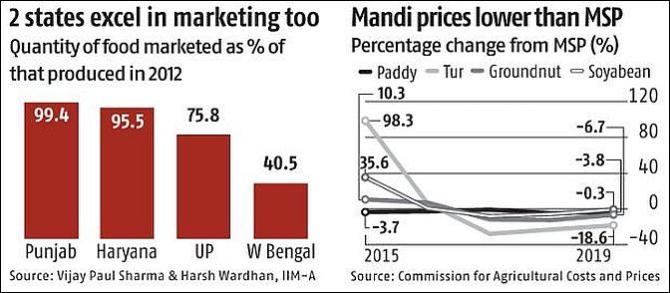 It is to be noted that these figures are comparative, and would not match the CACP data.
Small and marginal farmers - the majority - contributed weakly to the overall marketed surplus, the paper by the IIM-A duo found.
Their share in marketed produce was 17 per cent for paddy, and 10 per cent for wheat.
It also noted that about 40 per cent of marketed produce is to private traders unregulated by the APMC, and closer to the village, or sometimes, inside the village by local traders.
Marketing of food produce thus lacks a strong supply chain, and logistics infrastructure that would ensure that the produce gains value as it reaches the market, said Pawanexh Kohli, former advisor to the government on cold chain development.
"These reforms are long awaited and futuristic, but will be rendered futile unless supplemented by developments in agri logistics and market connectivity on ground," he told Business Standard.
Now, mandis have always been a bone of contention between the reformist and status quo-ist strands of market reforms.
But the degree to which mandi prices have lagged MSP is telling.
Farmers have earned considerably less than the MSP for most years, for major crops.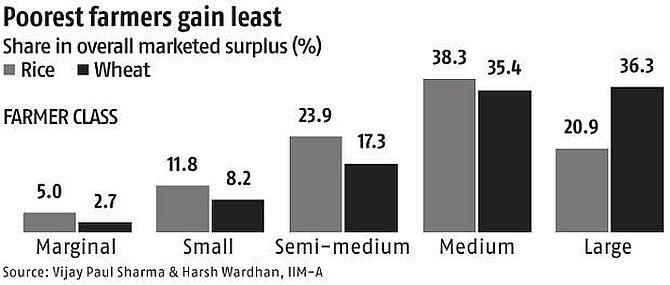 In fact, for four crops across 12 states, market prices have remained lower than MSP for 77 per cent of trading sessions, shows CACP data.
Saying this may change soon due to the new legal framework, farmer leader Sadabhau Khot said that the laws will save the farmers from dancing to the tunes of market prices.
"Farmer Producer Organisations, companies that will enter the marketing will ensure that market comes closer to the farmer, and that the required technology transfer from new marketers to farmers takes place," the former minister in the erstwhile Devendra Fadnavis government in Maharashtra, told Business Standard.
Bhagwan Singh Meena, national general secretary of Kisan Swaraj Sangathan, a farmer group active in Madhya Pradesh and Rajasthan said that a pre-determined remunerative floor rate should be available when farm produce is sold under the new laws.
"We also want that some regulation be placed on traders or else they might cheat farmers," Meena said.
He said that farmers in Sheopur, Gwalior and Ujjain had started protesting against the Bills and the protests would intensify in the coming days.
Photograph: PTI Photo