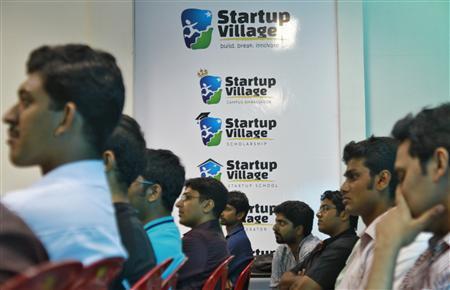 Though late, India Inc has now started recognising the disruption

American author Thomas Friedman had famously said "Facebook didn't exist, Twitter was still a sound, the cloud was still in the sky, 4G was a parking place, LinkedIn was a prison, applications were what you sent to college, and Skype was a typo" at the time he was writing The World Is Flat.
In this book, Friedman recounts his journey to the Silicon Valley of India, Bengaluru (then Bangalore), at the turn of the century.
It is there that he realised the world was flat.
Calling it Globalisation 3.0, Friedman had captured the onset of the biggest disruption ushered in through a coming together of personal computers and optic fibres.
The disruption, now in the form of tiny icons, better known as apps, has grown in both size and impact.
These apps, filling up the smartphone screens, have taken charge of our lives -- from booking a taxi to ordering grocery, from shopping for flight tickets and holidays to getting a plumber, electrician or a wedding planner, from buying electronic gadgets to apparel and cars, even houses, it's all a tap away.
In return, the founders of these Internet-led businesses, mostly techies from Indian Institutes of Technology starting up after a stint at some or the other multinational, are drawing top dollars from marquee foreign investors, and in process are posing a threat to big businesses like never before.
Retail expert and founder of Technopak, Arvind Singhal, describes the disruption linked to online business as one that has brought Bharat and India closer.
Singhal, who had earlier said e-commerce would be a much bigger disruptor than foreign direct investment in retail, notes that big businesses have missed the picture entirely over the years.
"They have been in a state of denial."
Now, Tatas, Reliance and Birlas are all seriously venturing into the online world -- eight years after the posterboy of e-commerce Flipkart was born, and much after Facebook, Twitter, Skype and 4G became part of our daily vocabulary.
India Inc was perhaps watching out for a repeat of the dot-com bubble burst of the early 2000s.

This time, transactions are real, even as profits are still a distant dream.
Ready cheques from venture capitalists have ensured start-ups with killer instinct don't leave the party early, even if their cash books bleed.
Though late, India Inc has now started recognising the disruption, not just by watching the fundraising spree of internet start-ups and their heady valuations, but also by the numbers crunched by international financial services like Morgan Stanley and Goldman Sachs.
Goldman Sachs has projected India's e-commerce market would breach the $100-billion mark (including travel, payments and retail) by 2019-20, as internet usage, discounting and investment by online retailers rise exponentially.
The current size is estimated at $17 billion, while e-retail is still hovering below $5 billion.
In the coming years, e-tailing is likely to capture a much larger share of the e-commerce pie.
Morgan Stanley, too, has come out with its own set of projections, calling India the fastest-growing market globally in online business.
The report cites Snapdeal co-founder and chief executive Kunal Bahl as saying, "For every consumer who can buy something offline in India, there are at least 100 who don't have access to that product or service.
That's the problem we want to solve."
It is this problem-solving aspect of internet-led start-ups that's making the story fascinating, as well as disruptive.
Ask Viresh Oberoi, chairman of the national committee on e-commerce, and founder, chief executive officer and managing director of Mjunction Services Ltd (a SAIL-Tata online B2B venture), and he says, "We saw the first signs in the steel industry way back in 2000-01, when small end users wanted to buy steel without going through middlemen… We knew what internet could do, we saw the value we could unlock was huge."
Oberoi points out that changing the mindset of senior executives in big companies has been the most challenging task in dealing with this disruption.
Future Group CEO Kishore Biyani, often called the Sam Walton of India, is among those still sceptical of online.
While replying to a question on online disrupting offline businesses, he said e-commerce was just creating non-scalable ventures.
Rajesh Magow, MakeMyTrip's co-founder & India CEO, an early disruptor, offers a counter.
"We believe best is yet to come for internet business potential and scale in India," he had recently told Business Standard.
GOING AT A LIGHTNING SPEED
India's e-commerce market is expected to breach the $100-billion mark by FY20, according to a Goldman Sachs report
A majority of this could come from e-shopping, a change from the current trend, where travel has the largest share
One of the triggers for e-commerce growth is sharp rise in internet users -- from 50 million in 2007 to 100 million in 2010 and more than 300 million by 2014
The time taken to add incremental 100 million internet users has shrunk from 10 years in the previous cycle to under two years now, thanks to fast adoption of smartphones
Total number of internet users in India could exceed 600 million by 2020, says a Morgan Stanley report