While IPL veterans such as Suresh Raina, Virat Kohli and Yuvraj Singh continue to impress on the field, new players from India and abroad have caught the attention of brand managers.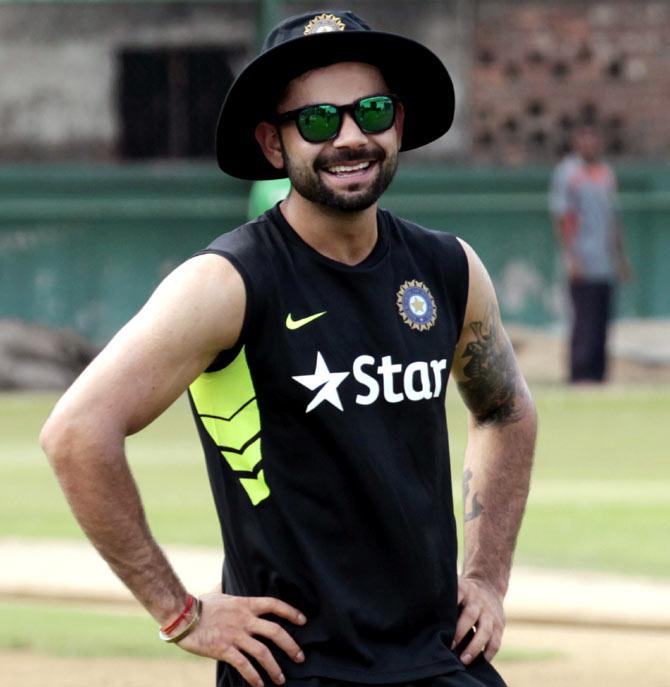 The just-concluded season of the Vivo Indian Premier League (IPL) has not only given rise to new champions in the form of Sunrisers Hyderabad, but has also opened up endorsement opportunities for many players.
While IPL veterans such as Suresh Raina, Virat Kohli and Yuvraj Singh continue to impress on the field, new players from India and abroad have caught the attention of brand managers.
Among Indian players, young guns such as Yuzvendra Chahal, Bhuvneshwar Kumar, Sreenath Aravind and K L Rahul were hot picks, say experts.
Among international players, Sunrisers' captain David Warner, his teammate Ben Cutting, Royal Challengers Bangalore's A B de Villiers, Chris Gayle and Shane Watson have also attracted queries.
Experts, however, say it would take some time before these players can cash in on their on-field performance off the field.
In case of the Indian youngsters, it is a matter of visibility, grooming and polish.
"For sports, cricket, consistency in form and visibility in the media are the main parameters a brand will look at before signing anyone on. There are players like Krunal Pandya (Mumbai Indians) who did well, but are not in the national squad. Brands will consider cricketers who have the opportunity to continue performing on the field," said a brand manager with a blue-chip company.
Veteran ad film-maker Prahlad Kakkar, who has worked extensively with brand Pepsi in the past, says, "Yes, the IPL has opened up opportunities for a lot of players and brands should be looking at some of them seriously. But before they (the players) can take the plunge into the world of brand endorsements, they should pay attention to their perception, personality and image building. That is key."
The opportunity for new players is ripe as there is a huge gap in terms of endorsement fees between first and second order endorsers.
At the top of the pyramid are Kohli and M S Dhoni, charging anywhere between Rs 6 crore and Rs 10 crore a year, depending on the tenure and terms of contract.
Following them are Rohit Sharma, Suresh Raina and Shikhar Dhawan, who fall in the Rs 50 lakh-1.5 crore-a-year category.
With all three performing well in the recent IPL and having the opportunity to show good performance on-field in the coming Zimbabwe and/or West Indies tours, their managers will be looking to increase their endorsement fees.
This opens up the field for newcomers who will look for brands that want to hire a brand endorser from the cricket field, but do not have the budget to splurge on the big guns.
Neerav Tomar, managing director and CEO of IOS Sports, a New-Delhi-based sports management agency, says: "The picks of this season are undoubtedly the likes of Bhuvneshwar Kumar, Chahal and Aravind. However, the endorsements tend to skew towards the batsmen and so brands will want to keep a close tab on these players before they sign them. But yes, the options have opened up for both the players, and brands."
He adds that they will start out small, but as they get international exposure and play for Team India, the momentum will pick up.
Experts believe the new players will be in a position to charge around Rs 30 lakh a year as they enter the world of endorsements.
In case of the foreign players, the argument is that brands might be wary of what happens when they play against India.
Kakkar, however, dismisses the notion, saying the visibility and awareness that some of these players can derive, especially while playing against the home team, is enormous.
"Just imagine a Don Bradman or Viv Richards endorsing a brand. Imagine the visibility a brand would gain by that. Moreover, these players would be more than willing to take up endorsement projects since in their home countries, the fad for cricket endorsers is not so much as it is here. On the other hand, brands may have to shell out less for them (the foreign players) than they would for an established player in the Indian squad, almost half," he adds.
So, a brand can hope to sign up a foreign player like de Villiers or Warner for Rs 3-5 crore - depending on the terms of the contract and the tenure.
IPL9 AT A GLANCE
Key takeaways
973: Most runs scored in a single season of IPL by a player - Virat Kohli, the captain of Royal Challengers Bangalore
345 million: Viewership-wise, cumulative reach of IPL9 this year vis-a-vis 200 million last year
Rs 1,200 crore: Advertising revenue earned by Sony Pictures Networks India, which has the broadcast rights of the tournament till 2017 - a jump of 20% over last year
34 cities: Up from 15 cities last year, IPL fan parks allowed residents of small towns to watch the tournament gratis on giant LCD screens
A SEASON OF FIRSTS
There were first-time TV sponsors such as Oppo, Coca-Cola, Tata Sky, RB (formerly Reckitt Benckiser) and Maruti this year. Even the title sponsor was a new one - Vivo - that came on board after PepsiCo terminated the contract last year
This IPL also saw venues being shifted on account of drought
Royal Challengers Bangalore and Sunrisers Hyderabad, Season 9 finalists, have never won an IPL tournament before
WHO STANDS WHERE IN THE BRAND ENDORSEMENT PECKING ORDER
Cricketers' endorsement fee bracket
YOUNG GUNS
Rs 30-35 lakh
Include Yuzvendra Chahal, Bhuvneshwar Kumar, Sreenath Aravind & K L Rahul
IPL VETERANS
Rs 50 lakh-1.5 crore
Include Rohit Sharma, Suresh Raina & Shikhar Dhawan
FOREIGN PLAYERS
Rs 3-5 crore
Include A B de Villiers, David Warner, Chris Gayle & Shane Watson
Source: Industry