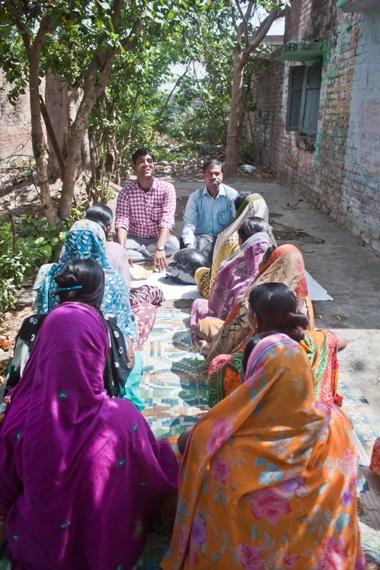 IMAGE: An Arohan Compulsory Group Training (CGT) session in progress in Bihar. Photograph: Kind courtesy, Arohan

What is it about Arohan that puts it in the top league of microfinance institutions in the country? Indrani Roy/Rediff.com finds out.
Sushil Choudhury is a proud owner of a lathe unit at Kadamtala in the industrial district of Howrah in West Bengal.
Starting with one machine, now he has purchased four and has become a supplier to one of India's largest automotive industry manufacturers, based out of Cochin.
But Choudhury's journey has not been a smooth one.
In 2011, he had approached a leading private sector bank for a loan but was turned down.
He then approached Kolkata-based microfinance organisation Arohan, the largest entity in West Bengal after Bandhan transformed into a bank.
After due diligence was done by the Arohan staff, he went on to become one of the first borrowers of the organisation.
And ironically, the same bank which had once refused Choudhury a loan approached him last year to avail of their services.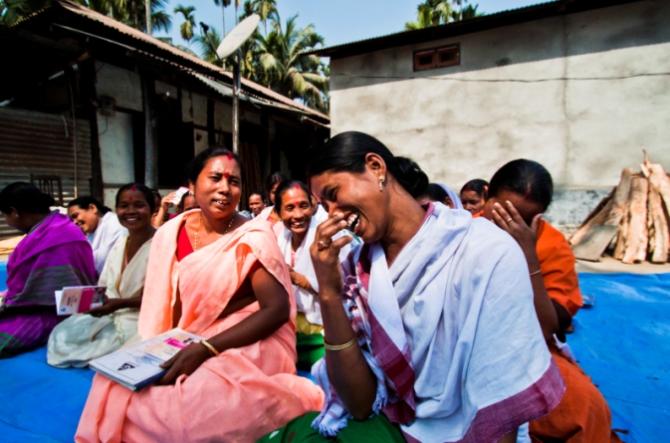 IMAGE: A group of Arohan customers. Photograph: Kind courtesy, Arohan.

Choudhury is not alone.
There are hundreds of people like him across six low income states in India who Arohan has helped in their journey towards self-sufficiency.
Starting with one employee in 2005, Arohan now has 1,800 employees, more than 150 branches in central, east and northeastern India and some 600,000 customers.
The company has so far raised Rs 124 crore (Rs 1.24 billion) in equity, and its loan portfolio stands at Rs 700 crore (Rs 7 billion).
Regulated by Reserve Bank of India, Arohan is among the fastest growing microfinance institutions with a year-on-year growth of 100 per cent.
By 2016, Arohan has expanded its operations to West Bengal, Bihar, Assam, Jharkhand, Orissa and Meghalaya, and its Chhattisgarh unit will be launched soon.
The company also has plans to expand to Uttar Pradesh, Madhya Pradesh and Tripura in due course.
"We don't want to travel to western and south India as those parts of the country are financially included," Arohan's managing director Manoj Nambiar told rediff.com at their swanky office in the eastern fringe of Kolkata recently.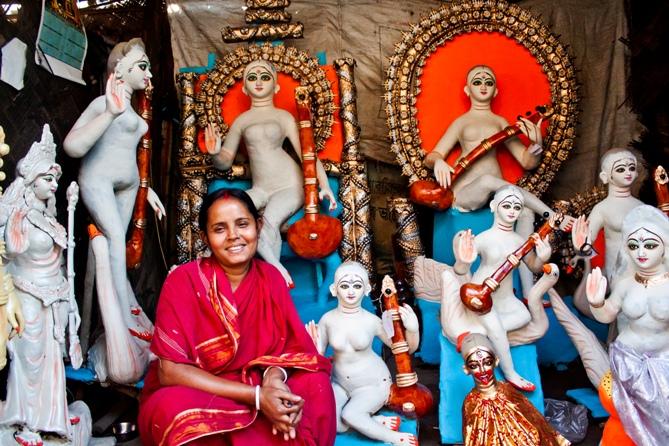 IMAGE: Idol-maker Manju Devi, of Shibpur, West Bengal, is another Arohan customer. Photograph: Kind courtesy, Arohan

For a long time, microfinance institutions in India had a social or non-governmental kind of origins.
The first commercial operation in the sector was SKS Microfinance started by Vikram Akula of Hyderabad.
In 2005 Subhankar Sengupta founded Arohan, also becoming its first chief executive officer, apart from being its first employee.
Arohan started its journey from a small office at Kasba in south Kolkata with a capital of some Rs 5-6 crore (Rs 50-60 million) raised mainly from the investment company Bellweather and also from a few individuals.
The preparatory work started around December 2005 and in May 2006, the first loan was disbursed.
Arohan raised further equity in 2007-08 from India Financial Inclusion Fund and Michael & Susan Dell Foundation.
It soon expanded from West Bengal to Bihar and Assam.
In September 2012, IntelleCash took a controlling stake in Arohan along with Aavishkaar Goodwell, a microfinance-focused fund, and founder Sengupta was eased out, meeting the same fate as the industry's poster boy Vikram Akula.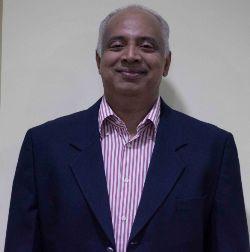 According to data provided by Arohan's MD Nambiar, image, left, its clients come from the following categories:
Small shop-owner and traders who are engaged in the retailing of products ranging from garments to consumer products.
Those engaged in small services, like workers at small makeshift restaurants, tea stalls, fast food stalls etc.
Manufacturers of small goods such as leather products.
Those involved in agricultural and allied activities, as direct producers of grains and vegetables, along with dairy products, and their wholesalers.
Traditional artists and craftsmen whose work ranges from from zari to kite-making.
In its endeavour to reach the people untouched by the banking sector, Arohan offers the following loan products:
Saral (for economically active women residing in slums/low income areas; loan size: Rs 10,000 to Rs 15,000 for a tenure of 12 months).
Saral Plus (individual loans to women who qualify for Saral and who have prior credit history with Arohan; loan size: Rs 30,000 to 50,000 for tenure of 24 months).
Bazaar (for both male and female vendors selling perishable commodities; loan size: Rs 10,000 to 15,000 for a tenure of 12 months).
Bazaar Plus (individual loans for those who qualify for Saral and who have prior credit history with Arohan; loan size: Rs 20,000 to 50,000 for a tenure of 24 months).
Pragati: (for entrepreneurs involved in non-farm agri-allied enterprises etc; loan size: Rs 50,000 to 500,000 for a tenure of 12-36 months).
Arohan disburses loans to its customers at an interest rate of 23.99 per cent per annum, and doesn't seek any collateral.
In most cases, loans are disbursed to joint liability groups.
Which means, in case of an unlikely default by any member of the group, the liability has to be shouldered by the rest of the members.
"The recovery ratio of Arohan is more than 99 per cent and a case of default is usually very, very rare," the Arohan MD told rediff.com.
Besides, before disbursal of loans to individuals, the Arohan staff do a thorough check of the borrowers' records and family history so that a default does not arise in future, Nambiar adds.
"The unique selling proposition of Arohan has been the passion of its employees," he further pointed out.
"Right from the first day, we have stressed on the following factors:
Keep the loan sizes small (it can be as low as Rs 5,000)
Design a frequent repayment structure; generally the repayment has to be made every month (Arohan's repayment ratio is greater than 99%)
Offer doorstep services
Organise regular meetings of the borrowing groups
Arrange for financial inclusion of the borrowers."
To innovate and improvise (for example, Arohan has recently tied up with IDBI to provide banking services to the underprivileged). It has become the business correspondent for IndusInd Bank Limited in Assam, and is in discussions with other banks as well.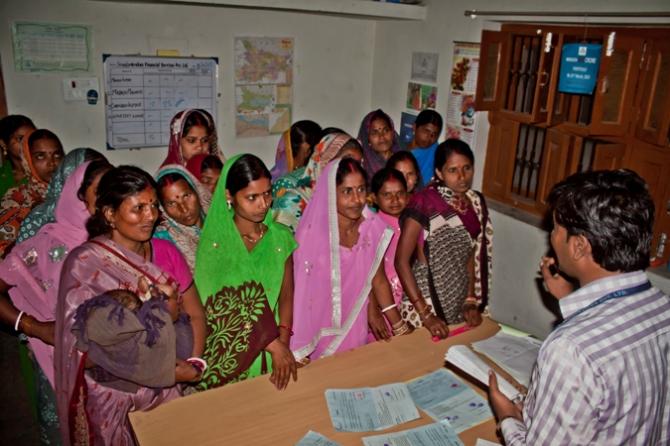 Image: A loan disbursal meeting at an Arohan branch. Photograph: Kind courtesy, Arohan.
"As part of its financial inclusion activities, Arohan provides its customers micro-insurance in collaboration with SBI Life (for life insurance products) and Future Generali (for general insurance products)," Nambiar told rediff.com.
"Arohan also distributes the National Pension Scheme-Lite pension product, where the money is invested in protected funds and government schemes for investment sizes as small as Rs 100 per month."
Tamanna Begam owns a glass cutting and manufacturing unit at Baranagar in northern Kolkata.
"I am associated with Arohan for the last eight years. Initially, I had taken a loan of Rs 15,000.
"As I repaid my loan in time, my eligibility improved and last year I took a loan of Rs 100,000."
Her glass unit now has five employees.
"I plan to repay my loan this year and want to apply for a loan of Rs 200,000."
Though she has heard of Bandhan, Tamanna preferred to approach Arohan for financial assistance as most of her friends and neighbours were its clients.
"It feels comfortable to work with an organisation that I am familiar with," she told rediff.com over the telephone.
Like Tamanna, Runa Laila too has been a loyal Arohan client for over five years.
She started a children's wear manufacturing unit in Metiabruz with an initial loan of Rs 15,000.
The loan amount increased over the years she repaid in time.
Last year, she got a bigger loan of Rs 100,000.
Runa has now employed three workers at her workshop and plans to expand it further next year.
"Arohan has been a great help for me and my family," she said.
"Its staff are friendly and compassionate and its service is really good.
"I have heard of other microfinance organisations like Bandhan and SKS but Arohan was the first to reach our locality with publicity brochures.
"The offers that they made seemed more lucrative than those put forth by Bandhan.
"I have referred Arohan to many of my friends some whom have become Arohan customers in recent times," she added.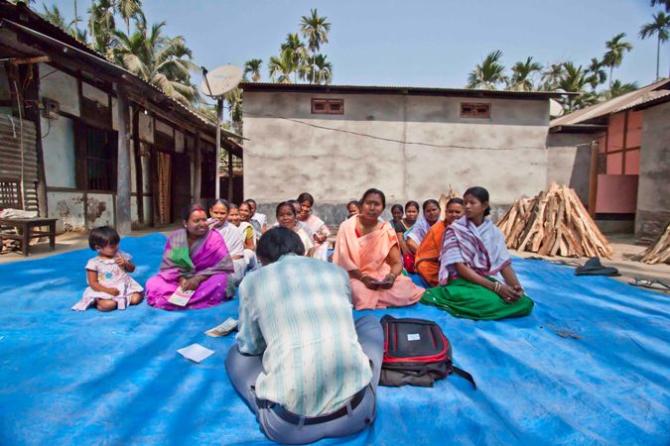 IMAGE: A meeting of Arohan customers in Assam. Photograph: Kind courtesy, Arohan

More than seven out of every 10 employees at Arohan are field officials.
To Arohan employee Ananya Jana, "Working here has tremendous job satisfaction."
"I had quit Arohan and joined a non-government organisation but I came back," Jana smiled.
"It's difficult to live without seeing the smile on the faces of Arohan customers."
"A few years back when the organisation had to downsize, many were asked to go.
"They were assured they would be given back their jobs if Arohan's financial state improved.
"After fresh investments came in, all the staff were offered jobs at the same pay they drew last.
"Most of them rejoined," Jana said.
"This speaks for the company's goodwill," she added.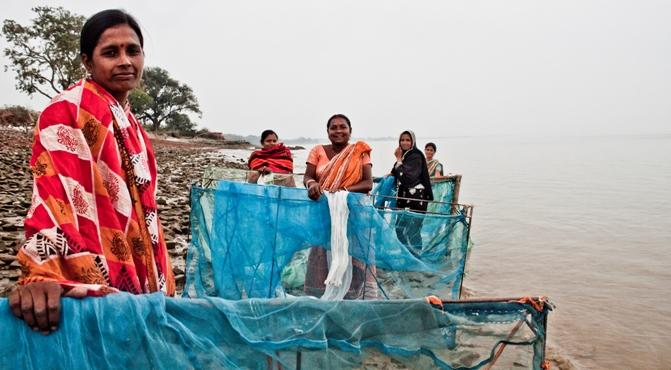 IMAGE: A group of Arohan customers at Diamond Harbour, West Bengal. Photograph: Kind courtesy, Arohan
"Our motto is to stand by the poor who are not touched by the banking sector, help them earn so that they can realise their dreams," the Arohan MD said.
Like Bandhan, Arohan too aspires to be a bank some day.
"But even if that happens, Arohan's commitment to the poor won't be affected.
"We will continue to stand by the poor and the underprivileged.
"Our primary goal is to be among the top three financial inclusion players in the low income states of East, North East and Central India, to serve over 10 lakh (1 million) customers across 10 states, and being in the top 10 preferred places to work," Nambiar signed off.