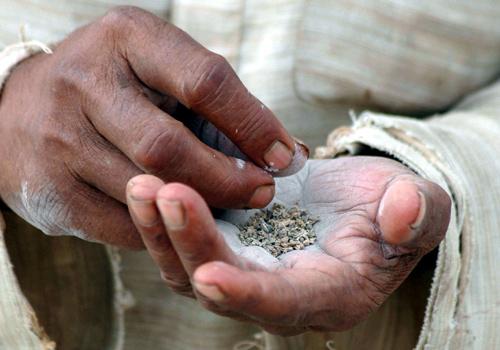 Piqued by the number of states opting to ban the production, sale and marketing of gutkha, a group of manufacturers under the aegis of the Smokeless Tobacco Association have issued print ads saying it is unfair to ban their products when the tobacco content in these is lower than that in cigarettes.
The ads, which appeared prominently in newspapers, say that one pouch of gutkha contains 0.2 g of tobacco as against 0.63 g in a single cigarette.

The ads also blame "the powerful lobby of cigarette companies" for the ban, which has compelled a number of small gutkha manufacturers to shut shop.
Joining the Smokeless Tobacco Association in the current drive are other bodies such as the Central Arecanut and Cocoa Marketing and Processing Co-operative Ltd and the All India Kattha Factories Association. Arecanut or betelnut and kattha are the ingredients in gutkha.
Gutkha manufacturers also argue that the ban has affected arecanut growers. Industry experts concede that the consumption of the red variety of arecanut has taken a hit due to the ban on gutkha and pan masala in 14 Indian states. They point out that arecanut prices are down by about 3 per cent to Rs 134 a kg in major markets such as Karnataka and Kerala.
The states that have banned gutkha and paan masala include Delhi, Maharashtra, Gujarat, Goa, Mizoram, Kerala, Madhya Pradesh, Chhattis-garh, Haryana, Punjab, Bihar, Rajasthan, Jharkhand and Sikkim.
Konkodi Padmanabha, president, Central Arecanut and Cocoa Marketing and Processing Co-operative (Campco) said the advertisements were part of the body's initiative to protect  arecanut growers. "We are not batting for any tobacco product. All we are doing is highlighting which product is actually harmful. Our attempt is to improve awareness," he said.
A spokesperson for ITC, the largest cigarette maker in the country, declined to comment. Udayan Lall, director of the Tobacco Institute of India, a New-Delhi-based body of cigarette manufacturers, also declined to comment on the issue.
However, cigarette makers questioned the rationale behind the ads. "How are we responsible for the ban? Gutkha is a food product, which is why it has been banned in 14 states," said an executive from a cigarette company.
Manufacturers in a few states have also moved court following the ban. In Maharashtra, for instance, the Pune-based Dhariwal Group, which makes Manikchand gutka, challenged the ban recently.

Company officials, while choosing not to come on record, say that pan masala and gutkha cannot be considered as food products. That way, they say, these products will not be governed by the Food Safety & Standards Authority of India (FSSAI).
Maharashtra had issued the ban on gutkha and paan masala this July under the Food Safety & Standards Act of 2006, on the grounds that these products, when consumed, were injurious to health.

The notification issued by the state had said that paan masala contained chemicals such as magnesium carbonate, while gutkha contained chemicals such as zinc, among others. These chemicals are said to cause cancer.

Following the ban in Delhi and other states, brokerages such as Edelweiss and Anand Rathi had issued reports saying that the move was positive for cigarette makers since consumers of gutkha would shift to cigarettes.
"We expect low-end cigarette brands such as Bristol, Flake and Scissors from ITC and Charminar from VST to benefit. Also, we estimate the new cigarette of 64mm (from ITC) to command higher volumes, finding favour with former gutkha consumers," said Anand Rathi.