The Reliance-Anil Dhirubhai Ambani Group has picked up a 15 per cent stake for Rs 225 crore (Rs 2.25 billion) in a new international airport coming up at Aranmula in Pathanamthitta district of central Kerala.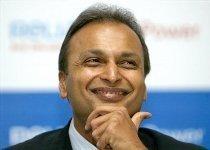 The investment was made a few months ago through one of the group's smaller investment companies at Rs 486 per share, said executives of KGS Aranmula Airport.
Promoted by KGS Aranmula Airport  at an investment of Rs 2,000 crore (Rs 20 billion), it is the first private sector airport in Kerala.
The state already has three international airports: Kochi, Thiruvananthapuram and Kozhikode. Recently, Aranmula airport received a go-ahead from the state government.
The airport will be situated in the Sabarimala hills, which houses the famous shrine of Lord Ayyappa.
Anil Ambani and mother Kokilaben visited the temple in February last year. Over 550,000 devotees throng to Sabarimala between December and February.
The promoters of KGS Developers hold 51 per cent stake in the project, scheduled to be fully operational by December 2012.
Aranmula Aviation, a company promoted by a consortium of Keralite organisations in North America and Mount Zion Trust promoted by local businessman Abraham Kalamannil, holds 30 per cent stake.
The state government-owned Kerala Industrial Infrastructure Development Corporation is also likely to pick up around 10 per cent stake, said P T Nandakumar, CEO, KGS Aranmula Airport.
The districts of Pathanamthitta, Aalappuzha, Kollam and Kottayam that will be served by the airport have 270,000 residents overseas, mainly in West Asia and the US. Another 600,000 Keralites have migrated to other states. The airport can serve tourists and pilgrims visiting the state, said executives.
R-ADAG's 15 per cent stake will be in the airport's main promoter, Chennai-based KGS Developers, which is planning real estate projects worth over over Rs 11,000 crore (Rs 110 billion) in south India, including a business district along the Chennai-Pondicherry corridor.
R-ADAG is a 50 per cent partner in three large township projects planned by KGS, which also has a tie-up with Reliance Adlabs to set up shopping mall-cum-multiplexes at 30 locations in 17 cities.
R-ADAG is developing five small airports in Maharashtra through Reliance Airports Ltd, a subsidiary of Reliance Infrastructure.
Asked about the group's investment in the Aranmula airport, Lalit Jalan, chief executive of Reliance Infrastructure, said: "My company is yet to associate with that airport project or the other real estate projects mentioned."
"The first phase of the airport, with a runway of 1,800 meters, will be ready by next year. It will be extended to 3,000 meters by the end of December next year," said Nandakumar.
In the first phase, planned at an investment of Rs 500 crore (Rs 5 billion), the airport can handle only small aircraft. On completing the second phase, wide-bodied aircraft like Airbus can land at the airport. It is expected to handle traffic of 50,000 passengers in first phase and 1,34,000 every year on completion.
KGS Aranmula Airport is in possession of 350 acres of land and will acquire another 150 acres. Land has been levelled for the first phase and has obtained site clearance from the Ministry of Civil Aviation. The environmental impact assessment report will be submitted soon, said the CEO.
The project will also include 150 acres of real estate development, which will include a five-star hotel managed by the Taj Group, a three-star hotel, a single-star hotel, an international school, and a shopping mall-cum-multiplex. The airport is estimated to generate revenues of Rs 10 crore (Rs 100 million) per year.