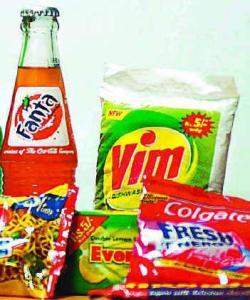 In a first of its kind, Indian media seems to be following FMCG majors in waging wars through advertisement campaigns.
In an ad that is currently on air, business news channel Bloomberg UTV takes a dig at a rival channel.
The ad shows Bloomberg UTV's anchor simplifying the business terms used by the anchor of a rival channel, who seems to be at great discomfort.
"By the look and feel of the rival channel it is clear whom they are targeting. It is a very in-your-face advertisement. Media is becoming a very competitive business and news is increasingly becoming a commodity.
"In this commodity market it is expected that players will indulge in such advertisement strategies," said business strategist and brand expert Harish Bijoor.
"It is a strategy that colas had given up a couple of years back and is now being practised by media entities. Such advertisements make people sit up and take notice," said Bijoor.
This is not the fist time that Bloomberg UTV and market leader CNBC TV18 have targeted each other. In March this year, Bloomberg UTV had threatened to initiate legal proceedings against the managing editor of CNBC TV 18, Udayan Mukherjee, for making defamatory comments about the channel.
Bloomberg UTV had claimed in its notice to Mukherjee that he did not exercise proper care and 'communicated and concluded to the public for over two minutes' on CNBC TV 18 that Bloomberg-UTV was 'copying', 'cheating' and 'lying' about its viewership ratings on the day of the announcement of the Union Budget 2010.
Based on TV ratings data by aMap, Bloomberg UTV had claimed through newspapers advertisements that on Budget day it was the leading channel in terms of viewership. In response to the legal notice, Mukherjee's lawyers had said he denied all charges as he never made any reference to Bloomberg UTV in his statements.
In response to the advertisement that is on air, Bloomberg UTV chief executive officer M K Anand said as a brand the channel is competing against established brands in the business news segment.
"There are three segments of viewers for business content on TV, which is primarily related to stock markets. We have seen that of the total number of viewers, seven per cent fall in the 'expert' category, nine per cent in the 'opportunists and aspirants' category and the rest 84 per cent in the learner category.
"As a brand we are communicating through our ad campaign that our coverage is sharp and blunt. It not only caters to the needs of the experts but a wider audience," said Anand.
He said CNBC TV18 had indeed aired defamatory remarks about Bloomberg UTV in March, however, the ad which is now on air just states the channel's proposition against rivals.
Advertisement campaigns like this are not uncommon amongst the FMCG companies or cola companies.
In March this year, there had been a fight between consumer product majors Hindustan Unilever and Procter & Gamble HUL, in its on-air communication of homecare brand Rin, had openly taken on rival P&G's Tide.
The Rin washing powder commercial claimed it to be a better quality product in comparison to Tide. The visual showed a variant of Tide, Tide Naturals, against Rin with the audio saying Tide se kahin behatar safedi de Rin (Rin gives better whiteness than Tide).
However, HUL had to pull down the advertisement after P&G went to court and got an order against the airing of the advertisement.
Bijoor said Bloomberg UTV's advertisement should be taken in good humour as it helps both the channels.
"CNBC TV18 can definitely go to court and more noise will be created. Unfair comparison can always be dealt in a legal manner," said Bijoor.
Network18 Group CEO Haresh Chawla declined to comment as he said he had not seen the advertisement. According to the latest TAM data, CNBC TV18 has a viewership share of 47.7 per cent amongst english business news channels followed by NDTV Profit at 25.5 per cent.
ET Now and Bloomberg UTV have a viewership share of 15.4 per cent and 11.4 per cent respectively.