A seven-city European roadshow by the Abu Dhabi Tourism Authority (ADTA) looks certain to reap dividends by the end of the year, even as Emirate plans a similar event in India.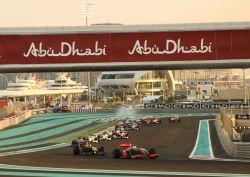 The authority says its travel trade representatives throughout Russia, Germany, France, Italy, the UK and Ireland have begun to buy-in to the destination's dynamic Q4 plans.

The ADTA now plans to spearhead similar roadshows throughout the GCC and India to specifically target the high performing regional markets.

In Russia, where ADTA launched a major marketing push this year with on-the-ground full time representation, the presentations ignited immediate interest.

Furthermore, heightened interest in England's North-West following the roadshows is increasing in potential for the destination, with Etihad planning to upscale its service from Manchester from 10 flights a week to a double-daily service from August.

The roadshow, which also featured representatives from Etihad airline, as well as Abu Dhabi Motorsports Management, which manages the Yas Marina Circuit, home to the annual F1 Etihad Airways Abu Dhabi Grand Prix, pulled in an audience of over 400 tour operators and media personnel.

All heard about the Emirate's packed Q4 major events programme and of the 10 new luxury hotels and resorts which will open in the destination
by the end of the year.
"This event gave us the necessary information on how to promote team-building possibilities on Yas Island," said Kira Dmitrieva, Head of Department of South Cross, one of Russia's leading outbound travel agents.
"I feel sure our corporate clients will be passionate about the idea of team building using the Formula 1 circuit," she added.
Having learnt about Abu Dhabi's plans for the third F1 Etihad Airways Abu Dhabi Grand Prix this November, the UAE national day celebrations in December and the year-end hosting of the Volvo Ocean Race fleet in a dedicated destination village, attendees were given a snapshot of the new resorts planned.
"For me, the most important part of the presentation was the introduction to the new hotel projects as it showed how important Abu Dhabi is becoming for the luxury travel segment," said Arlett Walleck, Senior Product Manager, Thomas Cook Selection, Germany.
Interestingly, in Manchester, the destination appears to be scoring through ADTA's relationship with Manchester City Football Club.
"Interest in Abu Dhabi is booming since it became the Official Destination Partner of Manchester City," said Karen Allen, travel agent, Aspen Travel, which specialises in business travel.
"I personally went there on the first flight with Etihad from Manchester and love it. It's accessible, affordable and authentic - definitely one to impress the neighbours with," she said.