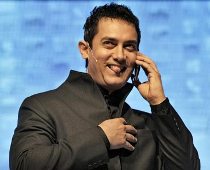 STAR India and Aamir Khan are pulling out all stops to make Satyamev Jayate, which hit the small screens on May 6, an instant hit.

The actor, who makes his TV debut with the show, has requested the companies whose brands he endorses to not advertise on this show.

He has also asked that his commercials should not be used during the 13 weeks the show will be on.


The Bollywood actor promotes brands such as Parle, Mahindra two-wheelers, Tata Sky and Samsung.

In addition, STAR India is giving sponsors category exclusivity. "We are offering category exclusivity to all advertisers.

"There will be no competing brands on the show. We will offer an uncluttered and universal platform to connect brands and consumers," said Gayatri Yadav, executive vice-president (marketing & communications), STAR India.

Sponsors are already seeing big money in the show. Bharti Airtel has been signed up as the presenting sponsor for Rs 18 crore (Rs 180 million), while the show has been powered by Aquaguard for Rs 16 crore (Rs 160 million).

STAR has six associate sponsors on board -- Axis Bank, Coca-Cola India, Skoda Auto India, Berger Paints, Dixcy Textiles and Johnson and Johnson -- paying Rs 6-8 crore (Rs 60-80 million) each.


In terms of scale, at nearly Rs 4 crore (Rs 40 million) per episode, this could be among the costliest television productions in the Hindi entertainment genre.

Typically, a 30-minute episode of a prime-time Hindi soap costs Rs 800,000-900,000, while reality shows, with high celebrity quotients, cost Rs 80 lakh (Rs 8 million) to Rs 3.5 crore (Rs 35 million) an episode, depending on the stars hosting a show.

For instance, Khatron Ke Khiladi, hosted by Akshay Kumar, cost Rs 2-2.5 crore (Rs 20-25 million), while Hrithik Roshan's Just Dance cost around Rs 3.5 crore (Rs 35 million) an episode.

Even the promotions of the show, with the budget of around Rs 6 crore (Rs 60 million), are touted to be the most expensive yet on the Indian television.

For the first time ever, a TV show had a road block across channels; and, it will be supported by a multimedia campaign as it moves closer to launch.

STAR India is taking a gamble with such an expensive show. But, it has hedged its bets in several ways.

The 13-episode show about ordinary people will be telecast on ten channels, including state-owned Doordarshan, simultaneously.

The other channels are STAR Utsav, STAR World and the broadcaster's Bangla, Marathi and southern-language entertainment channels.

In addition, the show is being dubbed in four southern languages — Telugu, Tamil, Malayalam and Kannada.

For English, and other regional-language channels, the programme will have subtitles.

Khan had also baffled everyone by insisting that the show needed to be different in several ways -- with its closely-guarded theme and the telecast time of 11am, unlike most marquee programmes that are usually aired during the prime time of 8-11pm.

"If the show clicks, STAR will have an advantage, as most channels do not have exclusive programming for Sunday mornings.

"It might actually just revive that slot timing and change the current rules of TV viewing," said the chief executive of a competing network on the condition of anonymity.
Image: Aamir Khan | Photograph: Mukesh Gupta/Reuters