When he is not using the solar pump on his field for irrigation, Raman Parmar uses it to evacuate power to utility grid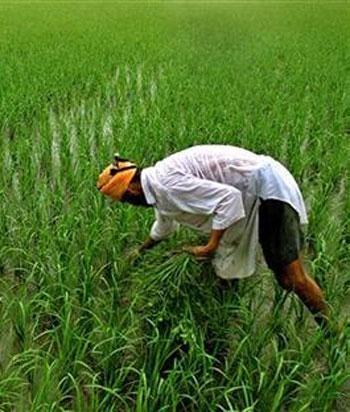 Solar irrigation pumps seem to be a new ray of hope for farmers with poor access to electricity and water. Not only can they use these for irrigating their fields but also for selling surplus power back to the grid. Raman Parmar, a farmer from Thamna village in Central Gujarat's Anand district, has tried such an initiative in his field and become a power producer.
Part of an innovative pilot by International Water Management Institute (IWMI), referred to as 'SPaRC', or Solar Power as Remunerative Crop, Parmar has for the past four months used the solar irrigation pump installed on his field to evacuate solar power to utility grid when he is not using the agriculture pump. In doing so, he not only produces electricity and food but earns money by selling energy to the grid.
IWMI, a scientific research organisation headquartered in Colombo, collaborated with The Tata Trusts, Mumbai, to pilot this project. The former, working on water policy and groundwater governance issues, monitors on-farm electricity generation, income, water efficiency and crop production as part of its pilot study.
Tushaar Shah of IWMI says: "Solar irrigation pumps provide farmers water to irrigate their fields and also gives them an incentive to sell the remaining power to the grid. Solar power can be a steady source of income for farmers."
Shah adds: "This will also address the issue of groundwater depletion."
Parmar, who does farming on 12 bighas of land (equivalent to five acres), says: "The project has brought down my power consumption by half. Earlier, I used to get power from the grid and had to sometimes wake up during nights to irrigate my field."
Shah and other IWMI researchers say if farmers have the option of selling energy and earn additional income, they will be driven to use power and water efficiently. Farmers could essentially grow and sell solar power like any other crop. Besides, this would help replace India's 20 million electric and diesel pumps with solar irrigation pumps and reduce the country's total annual carbon emission by up to six per cent.
"The buyback scheme could also protect farm incomes in the event of crop failure. And, if adopted widely, this could help ease pressure on the state's overburdened electricity board. Solar crops' are a very exciting example of a 'triple' win - for farmers, the state, and the precious water reserves, all benefit from a single intervention," Shah says.
He adds: "We know that India's farmers are extremely responsive to incentives that improve productivity and incomes. By offering them the chance to sell the electricity generated by their solar-powered pumps, we could make agriculture in India cleaner and greener."
On Friday, Parmar got a cheque of Rs 7,500 from the Thamna village sarpanch, Chandrakant Mukhi, at a function organised at his home. This was the price for the 1,500 kilowatt hour (kWh) of electricity generated by his solar panels over four months. According to IWMI, if he had used this energy to run his pump instead, he would have extracted an estimated eight million litres of additional groundwater. Also present on the occasion were officials from Madhya Gujarat Vij Company Ltd (MGVCL), Gujarat Energy Research and Management Institute (GERMI) and IWMI.
According to IWMI estimates, around 11 million farmers currently connected with the electricity grid across India could, in principle, install solar-powered water pumps and sell the surplus energy they produce.